Leinster ready for a match that will show just how far they have come
There won't be any need for Friday Night Lights this week, with the longest day of the year providing a – hopefully – sunny backdrop for the biggest non-international fixture Irish cricket has seen in decades.
The visit of Middlesex to take on Leinster Lightning is ostensibly a fixture to mark the centenary of the provincial union and its senior league. But the marketing surrounding the game, and the infrastructure being set up on the Pembroke ground betrays the enormous ambition surrounding Ireland's most successful province.
"It's a massive undertaking, our largest ever fixture," explains Philip Smith, general manager of Cricket Leinster. "We've been hugely enthused by the public response and expect up to 1,500 people on Friday, which is unprecedented for such a game."
Given the well-publicised failure of the Dublin public to turn out in sufficient numbers for the ODIs against England, Bangladesh and West Indies, such a figure would be astonishing.
"We've priced the tickets to attract a good crowd – €15, or €30 to include a drink, burger and programme – and we've already been successful in that with over 1,000 tickets sold", says Smith. "All we need now is the weather gods to shine on us and it'll be one of the great days.
The ground looks impressive, with the full match infrastructure taking shape in Sandymount, with boundary boards, bars, barbecues and food stations. "We've over 200 children's tickets sold so we have a dedicated kids' zone too with bouncy castles and rides."
Since the interpros were revived in 2013, Leinster Lightning have won 15 of the 18 trophies on offer. "Winning became a habit for us," explains Mark Jones, manager of the side since the start. "We've lost seven games [out of 76] in seven years. We've never lost a three-day game. Two of the three titles we missed out on were down to weather."
Fifteen years ago, interprovincial cricket was a dead duck, unloved by the players who often made themselves unavailable and eventually killed off at the behest of the national coach. In 2012, Cricket Ireland was starting to think big and knew a first-class domestic competition was a pre-requisite for a Test nation. North v South games started it off, before the three-cornered interpros began the following season.
"Alan Lewis was Irish chairman of selectors at the time and he asked me to get involved with the South side, with John Hoey as manager and Pete Johnston as coach", recalls Jones. "That morphed into the interpros and Cricket Ireland appointed three coaches – we got Trent Johnston."
Johnston had captained Ireland at the 2007 World Cup and was starting to make moves up the ladder which saw him coach Ireland's senior women's team and New South Wales men.
"The appointment of Trent set the tone," says Jones. "His mentality was 'you just go out and win, and this is how we're gonna do it.' Our admin, Ed Wyeth, took all the chores away from him, so all he had to do was coach.
"The Irish team at the time was essentially the Leinster team with a few UK-based guys, so ipso facto we were the most professional province. We practiced hard, with a purpose – not everyone got a bat, batsmen batted against bowlers and worked on their game.
"It became very game-focused, so when we were going to play North-West we cranked up the bowling machine to 85-90mph to simulate Craig Young.
"The guys took it seriously because they knew there were ten guys in their rear-view mirror who were looking to take their place. And if they took their place on Lightning they might take their place on the Irish team."
Smith came on board two years ago and saw Lightning needed some help to realise their ambition. "When I came in Cricket Leinster looked at Leinster Lightning as part of the Cricket Ireland structure and not something that was under its umbrella."
"We were the bastard child," notes Jones.
"That's changed now, it's totally integrated," says Smith. "CL at all levels is massively supportive. We've invested in the Bolts, the team for emerging players with high potential, and that's fully funded through CL resources and we've expanded their programme every year.
"We secured shirt sponsorship from Cairn Homes, which has allowed us to invest in ancillary supports for the teams in addition to the CI funding. Cairn have helped us build a fan base around Lightning which is a major step forward.
"There is latent support there. We've talked to Leinster Rugby about what they did, to benchmark us against how they grew their brand – the old interpros in rugby weren't a dissimilar starting point for us. Although we're not mainstream, we're expanding interest in Lightning beyond the serious cricket fan and now have people interested in sport in general engaging with Lightning."
The province also has ambitions for playing outside Ireland, where it just has two opponents, North West Warriors and Northern Knights, plus Munster Reds in the Twenty20 competition.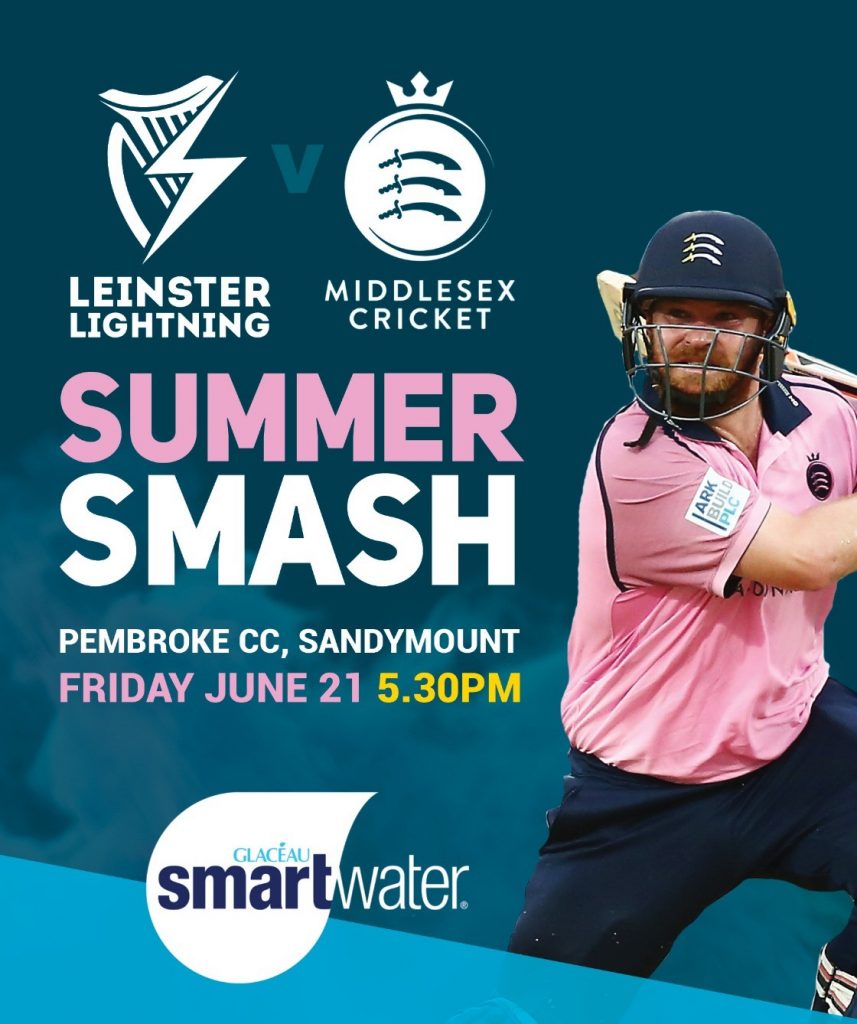 "Strategically we're trying to develop competitive cricket for the Lightning outside of playing the other provinces," says Smith. "The relationship with Middlesex we hope will be the start of something bigger. We hope to bring over other counties, and that Lightning will travel to the UK."
"It's difficult to know where to go," adds Jones. "There's a finite number of dates as Ireland play a lot of games in summer. So, we've been looking at out-of-season invitational tournaments, in the likes of UAE or Caribbean where we could pit ourselves against county or state sides. It's difficult to gauge where we are in terms of standard because all the interpro sides are sick of the sight of each other at this stage."
The end-of-season Euro T20 Slam might have been such a chance.
"I would have liked the Dublin Chiefs to have been a Lighting side, but we were never given the opportunity", says Jones. "I thought after winning five of the six T20 titles we might have been given the opportunity but unfortunately pure economics meant Cricket Ireland just sold off two franchises. I don't think it was ever an option for them."
The manager is confident about Friday's challenge against a side including stars like Dawid Malan, Stephen Finn and Paul Stirling.
"I think we've a fair chance of winning the game, we're not going to be shrinking violets, we're going to be competitive.
"I was doing a commentary last week and one of the presenters was bigging-up Middlesex with their four test players and six internationals and I pointed out we have four test players and ten internationals, so we'll be alright. We'll give them a very good game and with good home backing we'll sneak it over the line."
Final Tickets for the Smartwater Summer Smash must be bought now in advance of tomorrow via Ticket Tailor. Please click here.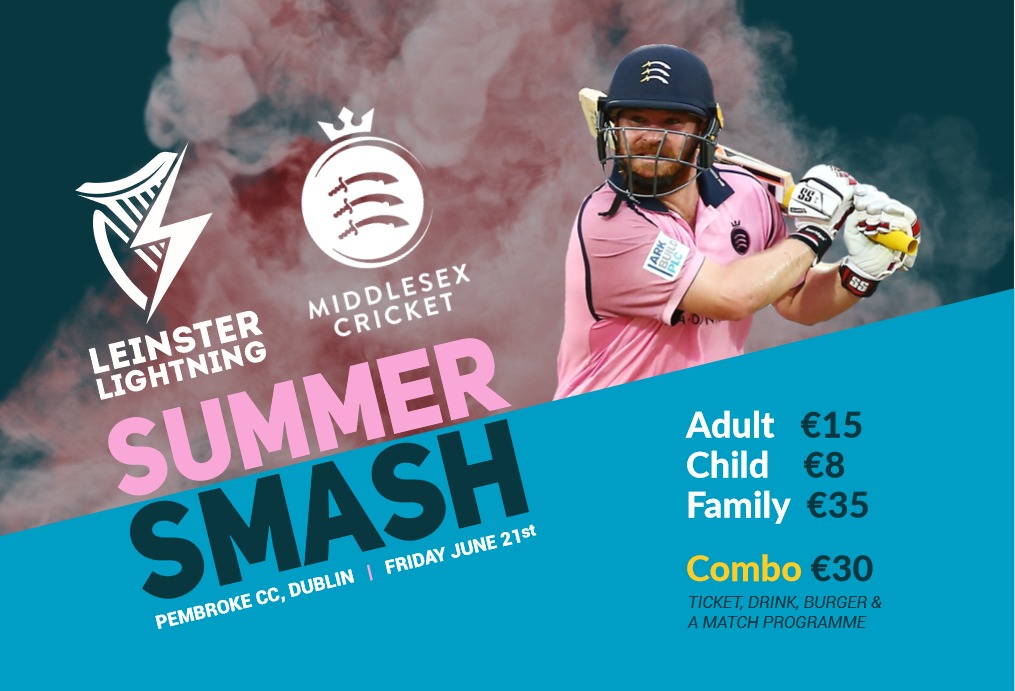 * Match will be live streamed on www.cricketleinster.ie