YMCA Defeat Leinster by 4-Runs On DLS
YMCA overcame the weather and a stutter mid second innings to hold off Leinster and secure a 4-run victory on DLS at Claremont Road on Thursday evening.

Having won the toss and opted to bat first, YMCA were rocked back by the early loss of Robyn Lewis and Kerry Tomlinson to an inspired Amy Kenealy (3-14).

Immediately after the second wicket fell, the rain arrived, and the players had to take refuge in the pavilion. When they returned, they were now playing a 14-over match.

Gaby Lewis put her foot down and scored 30 off 26 including six boundaries. However, when she fell YMCA were 36/3 and Leinster were right on top.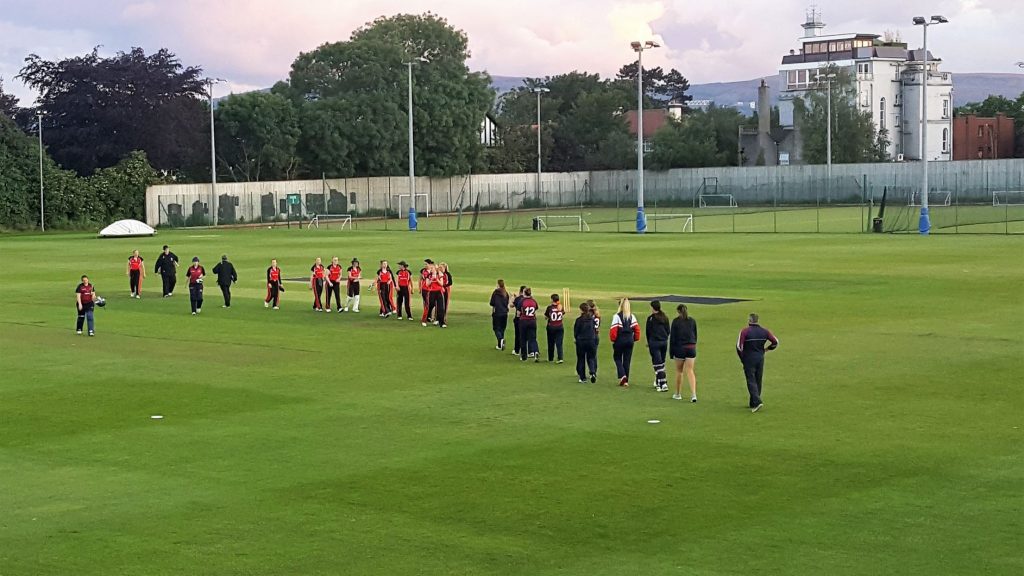 An excellent run-a-ball 19 from Jenny Grey and 31 off 27 from Sarah Forbes propelled YM to 95/6 off their 14 overs. Even when the target was revised down to the 94 by DLS, it seemed like the home side had plenty of runs on the board.

Ellen Ridgeway (20) and Sophie MacMahon (19) got starts for Leinster in their chase but when Ellen and Hannah Ridgeway fell in quick succession, the visitors were 61/4 and YM were heavy favourites.

Some sloppy overs with plenty of extras let Leinster back into the game and suddenly with Jenny Sparrow and Amy Kenealy at the crease, they needed 13 off the final over to be bowled by Robyn Lewis (1-10).

A wide of the first ball gave further hope but then Sparrow was run out looking for a second run off the next delivery. Leinster couldn't find the boundary they needed and YM celebrated a four-run victory by DLS.

In the night's other game, 45 from Una Raymond-Hoey and 3-17 from Cassie Stephens led Clontarf to a 31 run victory over Pembroke at Castle Avenue.

Academy Plus Division 1 20-over

YMCA v Leinster, Claremont Road, Thursday June 20th

YMCA 95/6/4 14 Overs (S Forbes 31, G Lewis 30; A Kenealy 3-14, S MacMahon 1-9)
Revised Target 94 in 14 Overs
Leinster 89/6 14 Overs (E Ridgeway 20, S MacMahon 19; L O'Reilly 2-14, R Lewis 1-10)

YMCA won by 4 runs on DLS