All historic "senior" match results and team scores added to Cricket Leinster archive
We may still be waiting for the go ahead to start cricket this year but the extended off-season has given us the opportunity to complete the last major digitisation of the Senior Club Records collected over a lifetime by the late Derek Scott.
As part of the development of the new Cricket Leinster website an extensive Archive section was created which included details of over 5500 cricketers who played in one of what were once called the Leinster Senior Competitions [what are now the Premier League and the Championship, the Senior League Cup and, until 2019, the Senior Cup]. This is a complete record, with annual and career averages, of every player who turned out in one of these competitions since the Leinster Cricket Union was founded in 1919. In all there are over 30,000 individual records and these can be accessed online in the Archive Section -https://www.cricketleinster.ie/archive
The Archive also contains details on the winners of Leinster Open, Women and Youth competitions down the years, Honour Boards [top performances in Senior Cricket] and Awards, as well as player statistics for representative cricket under a range of formats.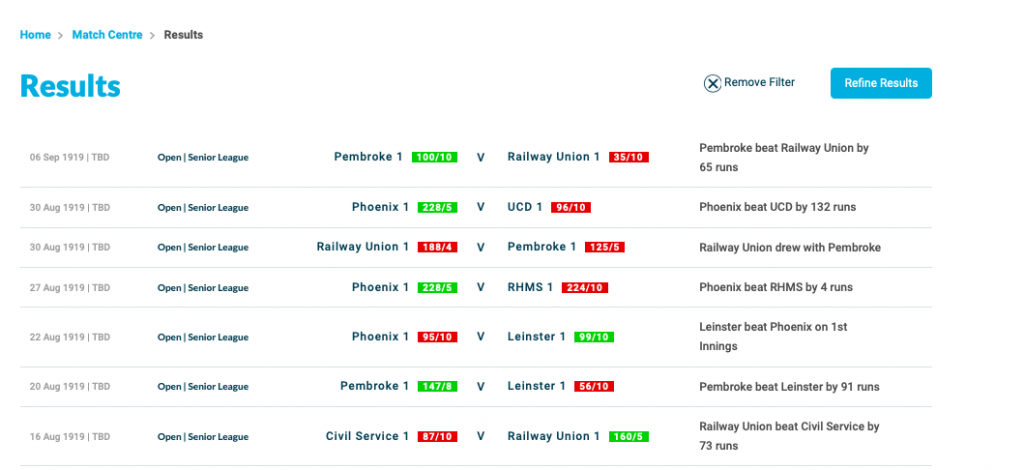 What is now being added is the archive of over 9,000 matches, results stretching back to the first day of the Leinster Senior League on 10th May 1919. The first two games played on that day saw Leinster [166/9] beat UCD [47 ao] by 119 runs and Civil Service [74 ao] beat RHMS [47 ao] by 27 runs. The historic matches can be viewed by going to the main Cricket Menu and clicking on Results. You can then filter by Month/Year, Club, Venue and Competition.
The match data has also been added to our CricketStatz database, where users can drill down into the matches. Public users can access stats such as the highest ever team totals in senior Leinster cricket whilst those who have Cricket Statz users (contact admin@cricketleinster.ie for details) can access more detailed stats, such as Clontarf's highest winning margins by runs in The Vineyard.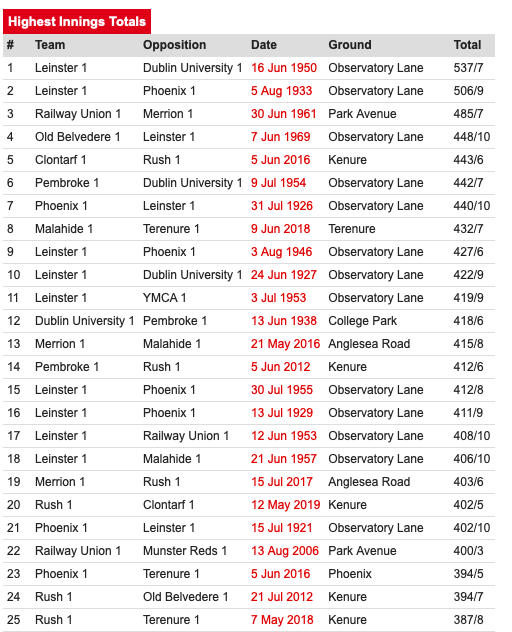 The new Results section is fully integrated with the database of Representative, Open, Women and Youth matches that is currently available on the website. It provides us with the platform to view match reports, scorecards and photos which we will now start adding to the individual match records. Finally, the records will help us fill in the playing history of local clubs and senior competitions. Any club that would like a download of all their senior matches just contact ewldublin@gmail.com