A guide to..... being a club admin on CricketStatz
This article is the latest in a series that helps club admins make the life of their club scorers much easier.
CricketStatz is the web based package that Cricket Leinster has used to store scorecards and player statistics for the past ten years. And whilst most of our top level matches are now scored electronically on CricClubs, for the medium term, there will always be a need for paper scorebooks and some method of inputting those scorecards on to the internet.

Most captains and scorers know their way around the CricketStatz system, but if you are new or need a refresher, you can get help here. But club admins and captains can make their own lives much easier as follows!
Log on to CricketStatz at https://www2.cricketstatz.com/ss/
All clubs have been given a login with a username of clubname@cricketleinster.ie (eg thehills@cricketleinster.ie or wexfordwanderers@cricketleinster.ie). If you don't know the password, use the normal password reset procedure, and the password will be emailed to all your club's admins, as listed on the Cricket Leinster website. Alternatively individuals can register as a scorer on the Cricket Leinster website, which includes access to Cricket Statz and CricClubs. If your access has not yet been set up, please contact admin@cricketleinster.ie
Select the "Teams" option from the main menu, and then select "List" for the team with which you want to edit the player list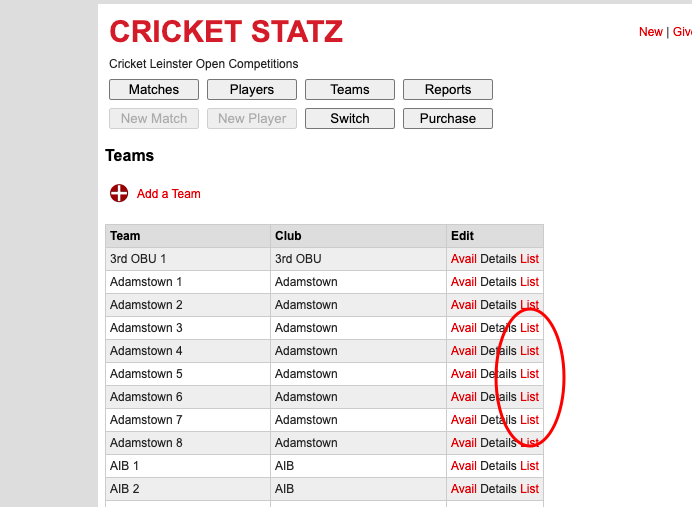 4. Admins can edit the player list of any team on their own club, but can also edit the teams of other clubs, important if that club has neglected to keep their player list up to date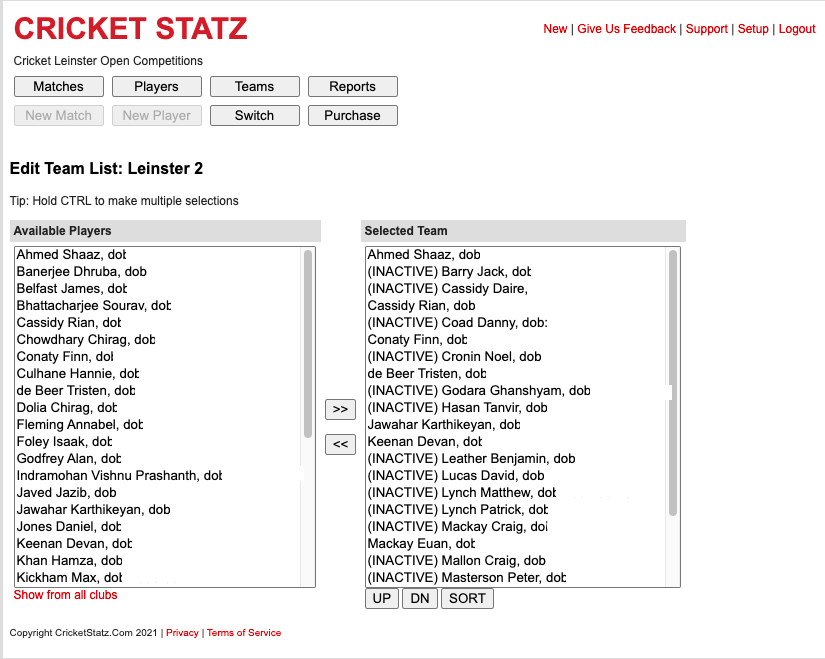 5. The "Available Players" box on the left contains all the players that have been registered for the club this season. The "Selected Team" box on the right should contain only players who are playing for this team. It should also be in approximate batting order. Use the left and right buttons to move players between "Available Players" and "Selected Team". Use the "UP" and "DN" buttons to sort the "Selected Team" into approximate batting order
6. When you go to enter your next scorecard, batting part of the scorecard is pre-populated from this team list. Keeping it up to date makes the life of the person entering the scorecards much easier!
If you need any help, please get in touch with admin@cricketleinster.ie