A guide to..... being a club admin, using Team Sheets and submitting youth results
In 2019, Cricket Leinster introduced a new team sheet system, with all teams in Open and Women's Competitions having to produce pre-printed team sheets containing photos of all their adult players.

This has had multiple benefits, but most of all it has made life much easier for scorers (who are provided with a legible print out, making player identification much easier) and those entering scorecards (who can refer back to the team sheet after the game when entering the scorecard).
From the start of the 2021 season, team sheets will also be used to submit information on youth matches, from junior level up.
Who can view and create team sheets?
Any user on the Cricket Leinster website who is a Club admin, and any player who has been designated as a captain by the club admins.
How can a player be designated as a captain on the Cricket Leinster site?
Any player can be designated as a "captain", and this can be done by club admins by clicking on Manage Players in their user profile. Then they should click on the helmet icon next to the player's name.
When can a team sheet be created and viewed?
Team sheets can be created at any time before the match, and for a maximum of four days after the match (for example, the team sheet for a match on a Saturday can be viewed until the end of the Wednesday)
How do I create a team sheet?
If you are a Club admin or captain, then log in to www.cricketleinster.ie/login . In your profile, click on the Team Sheets option (if you cannot see it, then you need to have club admin or captain status given to you - contact your club's existing club admins for details). Select the match that you wish to create a team sheet for. Then drag names from the right hand list of available players, into the left hand list. You can then save the list and/or print out the list as per the competition regulations.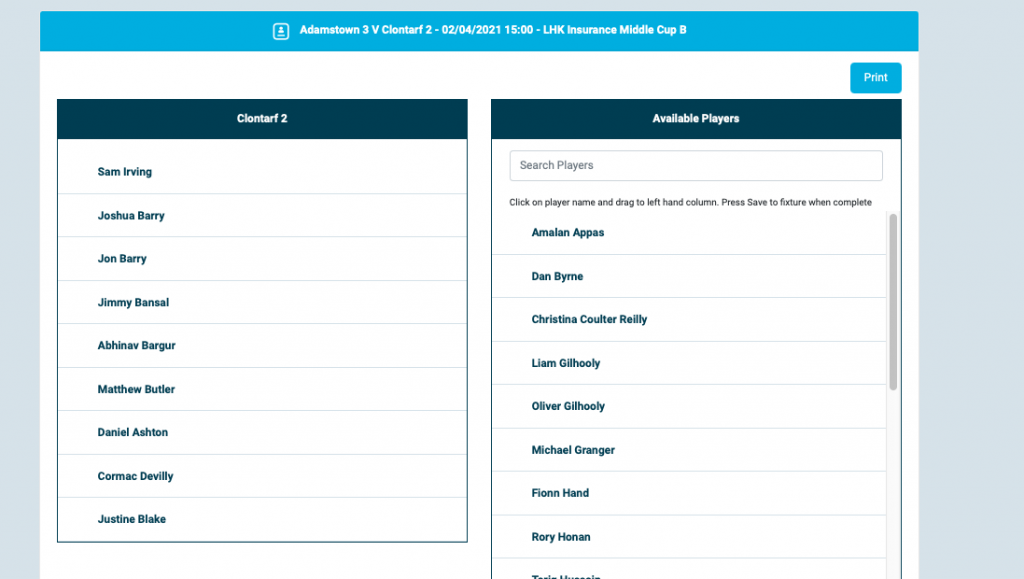 What happens if my team changes at the last minute?
Minimal changes can be made without having to reprint the team sheet. Explain to the scorers, umpires and opposition captain the situation. Multiple changes require a new team sheet to be printed.Can I create a Team Sheet for a youth team match?
How do youth managers and admins use team sheets to submit results and teams?
The results for all youth matches (Cubs, Minor, Junior, Colts, u17 and u19) should be submitted within three days of the match. They should be submitted in one of two ways.
On the day of the match, you can log in to the Match Centre, and after clicking on the "Update" button of the specific match, you can leave a result.
Alternatively, the home team should email results@cricketleinster.ie with the result of the match (don't forget to include which match you are submitting a result for!)
For Junior, Colts, u17 and u19 matches, the team sheets should also be submitted within three days of the match.
You can follow the instructions above, and use Cricket Leinster's team sheet system. Cricket Leinster admins will automatically process the result using this.
However, if the teams have been entered online , and subsequently change, or if the teams have not been entered on the Cricket Leinster site, then the home team should send photos of the teams sheets for BOTH sides to results@cricketleinster.ie