Clontarf's bumpy route to the top
Last week's article introduced the newly digitised data set of team scores in "senior" cricket in Leinster, from 1919 to the present day.
We showed that scoring rates in Leinster had increased rapidly from 2000 onwards, hypothesising that migration into Ireland had a major role in this increase, as well as new grounds (such as Rush and North County) causing more runs to be scored.
And then we went on to look at the history of Merrion, and how using the technique of a three year rolling average, we could look at the quality of bowling attacks, the standard of batting and even the quality of grounds.
But as we noted, there is a problem with this methodology. A team may score lots of runs on a ground, but is that the quality of the batting, or the quality of the ground? A team may look to have a brilliant bowling attack, but if they are playing on a bowling paradise every other week, shouldn't that be taken into account?
We have taken this analysis on to the next level, by taking these other factors into account, and coming up with a "calculated batting total", a "calculated bowling total" and a "calculated bowling total". Let us use a specific example to illustrate the method.

On July 6 2003, Old Belvedere travelled to Inch to take on North County in the second round of the Senior Cup. Going in to this match, the average 1st innings score over the previous three years in Leinster cricket was 195.71. The three year rolling average for matches in Inch was 24.66 runs higher, the average when North County were bowling (at all venues) was 41.68 runs lower, whilst Old Belvedere averaged 20.69 runs lower when they were batting.
A. From a Old Belvedere batting perspective, they were up against one of the strongest bowling attacks around (-20.69), but on a ground where scoring was easier than average (+24.66). Taking the mean of these two values, we get -1.98. Add that to Old Belvedere's actual score of 143, gives 141. Even against a strong North County bowling attack, the ground is easy to score runs on, and the 143 is "downgraded" to 141
B. From a North County bowling perspective, we take into account Old Belvedere's poor batting (-41.68), and find the average of that and the ground (+24.66) and take that away from the actual score, to make 151. It's a small adjustment. If the game had been played on a ground where it was difficult to score runs, there would have been a big increase to the score (143 runs scored in Cabra would have been worth a lot more than 143 runs scored in North County)
C. And then finally, from the ground's perspective. Again the total is number is bumped up, this time to 174. We are aiming to work out an approximate score, taking away the skill of the two teams. We want to forget that this was a poor batting team against a brilliant bowling team, and hence the team total gets a big rise, to get it back towards the average of all teams.
So we have come up with three calculated numbers to represent every single 1st innings in the history of Leinster cricket, taking into account the normal runs scored in each ground, by each ground, and conceded by each team. And then that has been compared to the average across all teams, to finally give us a measure that will enable us to compare all teams across time, and across the province.
Confused? Let us have a look at the history of Clontarf to help us visualise these figures. Clontarf are picked, as they (like Merrion in our previous example), have a long history, as well as lots of ups and downs - although in Clontarf's case, it is mainly ups.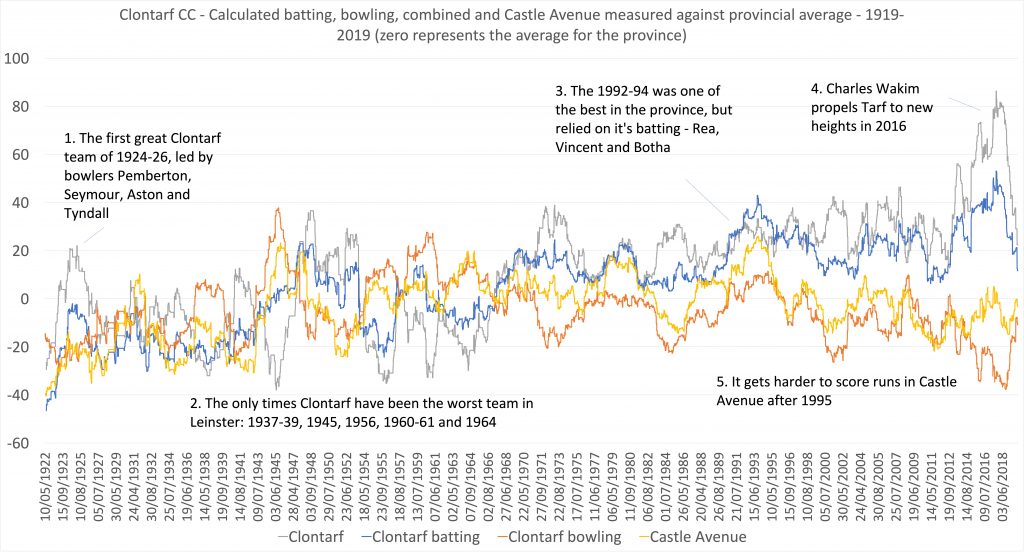 Above, we can see Clontarf's 100 year history in Leinster Senior cricket (they missed the 1919 season). The orange line represents the Clontarf bowling attack (with troughs indicating better bowling). The blue line is the Clontarf batting prowess, and the yellow line indicates matches played in Clontarf's Castle Avenue ground. Finally, the grey line is the combined total for batting and bowling.
Before we look at the graph in detail, a couple of points to remember.
All the data is based purely on the scores in the 1st innings of the match. From that, we are hypothesising that you can then complete accurate analysis on the quality (or lack of!) of cricket teams.
However, this does not mean that sides we say were brilliant, actually won lots of trophies. There are many reasons why teams may not win league medals, and this was especially true in the first 30 years of Leinster cricket, where the vagaries of the weather and informal fixture lists, perhaps meant the league was more of a lottery. So on to Clontarf.....
We have picked out five major points in Clontarf's history; points that have been hidden from sight that our analysis has found.
1924-1926. The first title winning Clontarf team. Although the trophy wasn't won until 1926, the groundwork was put in in the preceding years. Our methodology says that based on the 1st innings batting of Clontarf, and their bowling when the opposition batted, Tarf were one of the best teams in the province in this period. But the league tables don't bear this out: 5th, 6th, 3rd, 6th, 5th and 1st from 1921 onwards. Why could this be?
League tables are one way of deciding who the best team is in any sport. But the points structure of that league can have a major effect on the finishing order. We take bonus points for granted now, but in the 1920s, when it was three points for a win and one for a draw, the tables didn't necessarily reflect who the best teams were.

In 1924, an extra 60 runs spread across four matches (the narrow losses against County Kildare, Civil Service, Railway Union and Pembroke) would have been enough to give Clontarf the league title.
In 1925, Clontarf's losses were less narrow. But if they had scored an extra six runs to beat Railway Union, and if the early season match against an 8 man UCD team who were the weakest team in the province, hadn't been rained off, they would have finished in second place in the league.
Historical revisionism isn't for everyone, but it is fair to say that the Clontarf team of the mid 1920s was much better than was reflected in the league tables.
1937-1965. There were five distinct periods within this general era, when Clontarf were the worst senior team in the province (an "accolade" which they have not "won" since). In 1935 and 1936 GJ Morgan scored 715 runs and TJ Dunne took 88 wickets, and in tandem with the talents of JW Hill, these three dragged Clontarf to 6th and 4th in the league. Hill was still a massive presence in 1937 and 1938, but Morgan and Dunne struggled, and without their input, an average team turned into a poor one, Tarf finishing second from bottom in the league in both seasons.
According to our analysis, the 1945 team was the worst Clontarf bowling team of all time. JW Hill's extraordinary career, which saw him take 609 wickets for Clontarf between 1936 and 1960, was still going strong. His 64 wickets at 14.29 were the one positive headline in a wave of bad Tarf bowling news in 1945. No one else took more than 20 wickets, and the opposition were only bowled out on seven occasions (bottom side Dublin University took ten wickets nine times).
If we're being honest, the situation hardly changed until the mid 1960s. Since 1919, there have been twenty two seasons when less than two Clontarf bowlers have taken 20 senior wickets in a season, and nine of those years were between 1951 and 1963. John Hills final "plus 20" year was 1951, and fellow Ireland international Ernie Bodell, had his first major year in the same season, with 52 wickets at 13.38. But there was no strength in depth until the end of that decade, when bowlers such as Podge Hughes, Gerry Kirwan and Vinie Savino arrived on the scene.
Finally from late summer 1964, Clontarf rose back through the ranks of Leinster cricket, becoming the successful club we know today.
1991-1995. For the first half of the 1990s, the Clontarf side of Deryck Vincent, Michael Rea and Andre Botha (all three only played together in 1994) were an impressive unit. For five seasons, we can identify this side as always being in the top three teams in the province, when they picked up seven trophies in four years.

But our analysis suggests this was a very odd team, one that came to be one of the best around, despite having a below average bowling attack. For large proportions of this period, Clontarf were amongst the two or three worst bowling attacks around (alongside Merrion, CYM and Dublin University), and for one day, August 19th 1994, they simultaneously had the best batting side in Leinster, and the worst bowling side.
For the record, on that day, CYM scored 237-7 (with the Tarf bowlers being Andre Botha, Johnny Fitzpatrick, Johnny Barry and Lebeau Jonker), Clontarf ending up drawing the match with 215-5 (Rea, Ronan O'Reilly, Botha, Fitzpatrick, Paddy Lee and Angus Hancock forming the batting line up).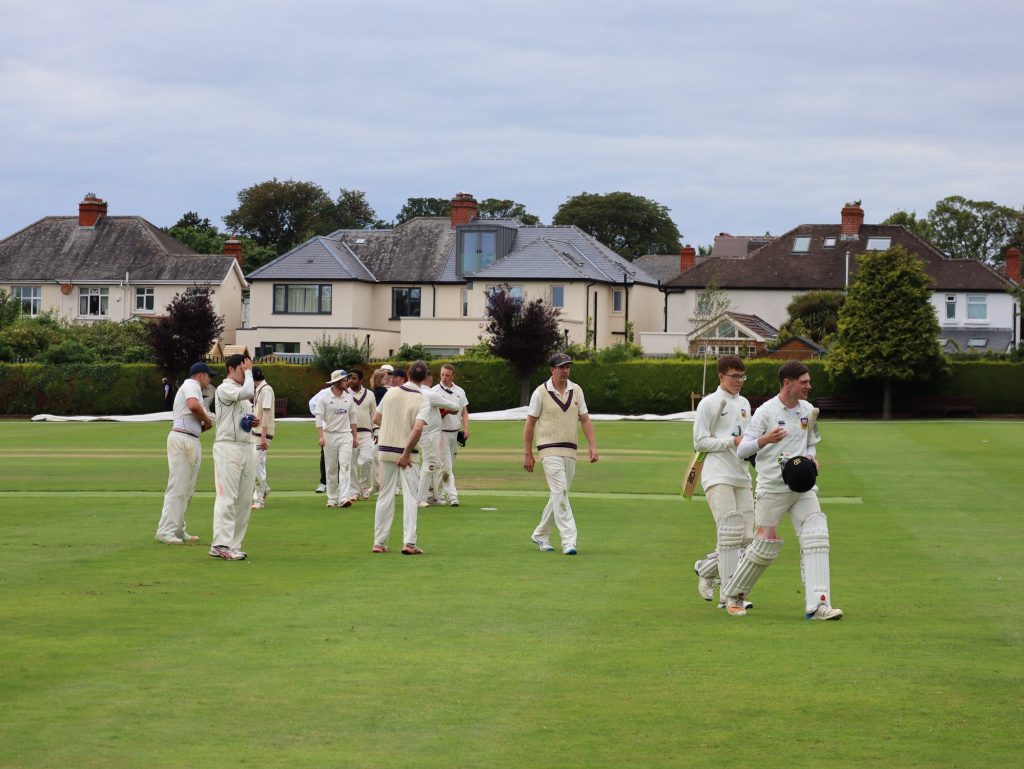 1998-2019. Although our methodology has attempted to remove the influence of the quality of a batting team from the ground, and similarly for the quality of the bowling team, the three factors are so closely linked, that there may always be some leakage between the factors.
For a period from 1987 until the end of 1993, Castle Avenue was a run scoring haven. Whoever batted at Clontarf's home found run scoring easy. Whoever bowled there struggled to stem the tide. We have seen that Clontarf were affected by this as well, but the same can be said for all teams.
But from 1994 inwards, the evidence of Castle Avenue as being a run-scoring paradise lessens. The ground was consistently "worse" than average when it came to how easy it was to score runs. By the end of the 2018 season, the only grounds where it was harder to score runs were College Park, The Maws, The Mardyke and Observatory Lane.
Since then, Clontarf CC have decided to relay the square, and it will be fascinating to see whether the ground can return to its 1993 levels.
2014-2019. Our final period of interest in the history of Clontarf concerns the second half of the last decade. It reveals a large spike for both Clontarf batting and bowling, as their best batting and bowling line ups combined to form what we think as the best ever Clontarf team.
In relation to the "best team ever" epithet, a couple of points need to mentioned
Our previous conjecture was that Clontarf's Castle Avenue home was harder and harder to score runs in. That is to say, all teams found it harder to score runs in Castle Avenue than they would elsewhere. At the same time, Clontarf's batting line up was scoring runs for fun, but found it easier to score runs everywhere else.
Comparing teams across the ages is always open to criticism. We are saying that taking into account the average number of runs scored across the province, and the average number of runs conceded by bowling attacks, this Clontarf team out performed the average by more than any other in Clontarf's history. In our next article, we will explore how the gap between top and bottom teams in Leinster has affected run scoring.
The rise and fall in the Clontarf team from 2014-2019 can be seen in this table.
| | | | |
| --- | --- | --- | --- |
| | Description | Batters (+600 runs in period) | Bowlers (+25 wickets in period) |
| 2014-2015 | A very good team improving to a great team | Bill Coghlan, Eoghan Delany, Andrew Poynter | Alex Cusack, Conor D'Arcy, Michael Grainger, Joe Morrissey, Zander van der Merwe |
| 2016-2017 | The best ever Clontarf team | Bill Coghlan, Robert Forrest, Charles Wakim | Alex Cusack, David Delany, Sameer Dutt, Shariful Islam, John Mooney, Joe Morrissey |
| 2018-2019 | Lack of depth and ageing team leads to drop off | Bill Coghlan, Eoghan Delany, Robert Forrest, | David Delany, Sameer Dutt, Shariful Islam |
The 2014-2015 team was excellent. Their quality really cannot be understated. They won the Senior Cup in both years, were second in the league in 2014 and won it in 2015. There was so much quality with bat and ball, with runs coming from Bill Coghlan, Eoghan Delany and Andrew Poynter, and a bowling attack which at varying times had Alex Cusack and Joe Morrissey, along with the wiles of Conor D'Arcy and either Michael Grainger or Zander van der Merwe.
Whilst that was a brilliant team, things just got better in 2016. Charles Wakim arrived in the club and blitzed 853 runs at 60.93. Along with Coghlan and Robert Forrest, lots of runs were scored, and they were scored quickly. But the strength in the bowling attack was extraordinary - internationals Alex Cusack and John Mooney, Joe Morrissey still delivering immaculate line and length, the pace of David Delany, and then perhaps the unheralded skills of Ropu Islam and Sameer Dutt. The 2016 league was won at a canter. For most of 2017 it looked as if the reign would continue, before an end of season collapse signalled the end of the era.
2018 and 2019 still saw excellent sides - they won the Senior Cup again in 2018. But with the strength in depth of the club disappearing (Cusack, Mooney and Wakim were all no longer around), and with many other key players getting older, Clontarf were no longer a great team. Just a very good one.