2,200 PLAYERS REGISTERED SO FAR!
Player registrations gained further momentum this week with the news that Under 18s can start training in pods of up to 15 people from 26th April (which is now just over 3 weeks away).
It is also hoped that adult training will follow shortly thereafter during May subject to further Government guidance.
On this basis, all players are encouraged to register or re-register ASAP by following this link:
https://www.cricketleinster.ie/news/registration-for-the-2021-season
In particular, it is now an opportune time for all youth players to get registered and in doing so, secure full insurance cover and their personal starter pack with t-shirt, plastic bat and balls - all CL branded.
The big movers this week were Leinster CC (which is consolidating its position as the largest club in the province) whilst other major movers include Terenure CC which added a further 12 registered players and Clontarf CC where 10 more players renewed for another season.
Adamstown CC continues to progress well with over 100 players now registered confirming its status as the fastest growing club over recent years as it looks forward to securing its new ground at Airlie Park (in the heart of Adamstown) from 2022 onwards.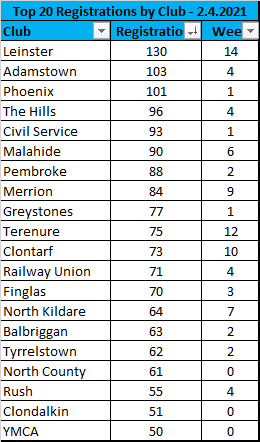 Anyone wishing to renew their registration or indeed register for the first time can do so by following this link:
https://www.cricketleinster.ie/news/registration-for-the-2021-season
In terms of youth registration, the leading clubs so far are as follows: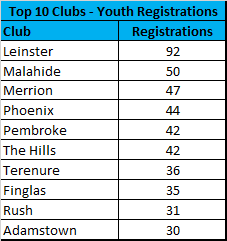 The success of Leinster CC on the Youth side is underpinned by these numbers which is a credit to all concerned in terms of leadership, coaching, participation, innovative programmes and a fun experience. It is also heartening to see strong growth in the Youth programmes at Terenure, Finglas and Adamstown reflecting a concerted focus over recent years.
And remember, all youth registrations come with full insurance and their own starter kit.