Your Club, Your Province Grand Prize Draw
Please note that the Your Club, Your Province Grand Prize Raffle tickets are currently being printed and will shortly be available for sale by all Cricket Leinster clubs.
All Cricket Leinster clubs will be supplied with an initial allocation of 500 tickets (with a fundraising value of €5,000); your club can request further allocations as and when required throughout the year at no cost.
Tickets are individually numbered and priced at €10 each or 6 for €50.
And remember - all ticket sales proceeds accrue to your club - all you need to do is send us the ticket stubs for all tickets sold to ensure inclusion in the Grand Prize Draw.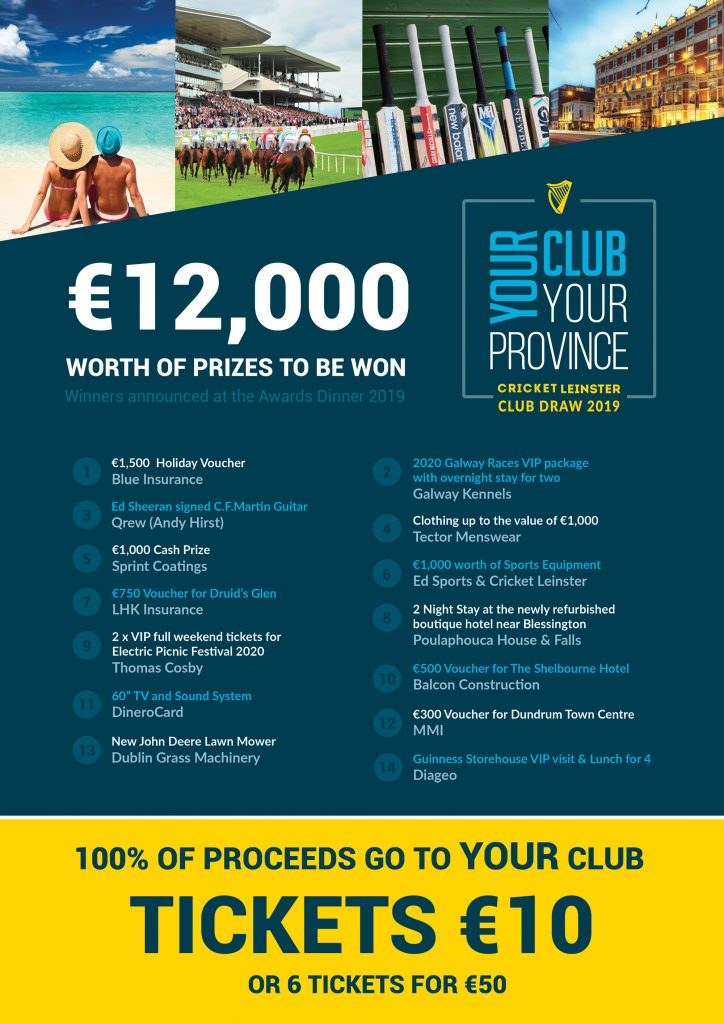 The Draw will take place at our 2019 Annual Awards Night, provisionally scheduled for Friday 22nd November, so your club has all season to sell tickets and raise much needed funds from this process.
An officer from your club is required to sign for your ticket allocation which can be collected from our offices at a pre-arranged date/time from Monday next, 25th March.
You can also collect some posters for use within your club and it's vicinity to promote ticket sales. Or to download a print ready version of the poster please click here.
We hope all our clubs materially benefit from this fundraising initiative.
Cricket Leinster would like to thank all those individuals and companies who have provided the prizes.