Open Competitions League Structures 2021 Confirmed
Cricket Leinster can today announce the confirmed league structures for the 2021 Open Competitions league structures. Starting with the Premier League and Championship, which can be found below, the notable changes from 2019 are of course Clontarf's Championship win has secured them a Premier League spot at the expense of Rush who finished bottom of that competition in the 2019 season.
Other material changes see North Kildare return to the Championship, granted a double promotion after their convincing victory in Division 4, whilst County Galway enter the league for the first time with a team of players laden with Leinster League experience.
This season will see the retention of the Premier League final, with the team who tops the league standings progressing straight to the final, accompanied by the winner of the Eliminator game between the teams finishing 2nd and 3rd. Meanwhile, the team finishing 2nd bottom in the Premier League, will face off with the 2nd placed Championship side, to decide which of them plays in the Premier League the following season.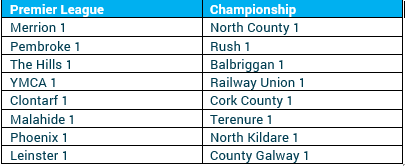 Division 3 is unchanged from 2019, with North Kildare jumping straight from Division 4 to Championship. Division 4 sees Rush 2 promoted in as 2019 Division 5 champions, the other new teams in this league being Knockharley and Cork Harlequins. Division 5 sees Pembroke 3 promoted into the league alongside Balbriggan 2, whilst Longford 1 have dropped in from Division 4.

Division 6 sees Mullingar relegated from Division 5. While Sandyford are promoted from Division 7. Other reshuffles including decisions from DLR County and Laois to drop their sides down a number of leagues sees Terenure 2 and North Kildare 2 both given positions in Division 6. In Division 7, Castleknock 1 and Leinster 3 drop from the league above, and are joined by Carlow, promoted from Division 8. Their spot is now occupied by Laois 1, whilst Tyrrelstown 1 and The Hills 3 move up from Division 9.

Ringcommons 1 and Ashbourne 1 fall one league into Division 9, where DLR County are also repositioned. Lucan 1 jump two leagues having been convincing winners of Division 11, whilst Kilkenny are also repositioned into Division 9 in reflecting their playing strength. Division 10 sees Slieve Bloom 1 drop down along with North County 3. Whilst YMCA 4 and Civil Service 4 shuffle up. Division 11 contains North Kildare 3, 2019's Division 12 champions, with Dundalk 1 and Longford 2 dropping from Division 10.

Division 12 sees Mullingar 2 drop in, they're joined by Division 13 winners and runners-up, Leinster 5 and Halverstown 1 respectively, with Finglas 1, the convincing Division 14 winners benefitting from double promotion. Whilst in Division 13, Sandyford 2, Phoenix 5 and Swords 2 all drop down, they're joined by Civil Service 5, Terenure 3 and Adamstown 5 who have all moved up. Division 14 contains Pembroke 5 and Malahide 5, who both drop a league, whilst Athlone 1 and Tyrrelstown 3 are the most notable of upward moves in a Division which has totally changed since 2019.

Division 15 sees Railway Union 5 drop down along with Wicklow County 2, as North Kildare 4 are promoted as Division 16 winners. Division 16 contains new entries from Tyrrelstown 4, Athlone 2 and Finglas 2 when compared with 2019.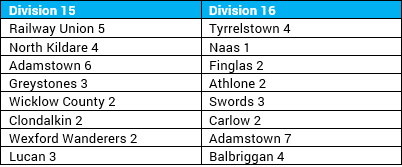 The introduction of Division 17B, a developmental league with regulations to ensure the league is played in the right spirit, there has been some re-jigging of teams in these lower leagues to allow sides enter at this level. Meanwhile, the "results based" strain of Division 17A, contains new entries from Terenure 4, Civil Service 6, Kilkenny 2 and Castleknock 3 in comparison to 2019's structures.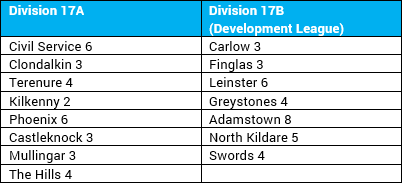 All fixtures for Open Competitions are being centrally arranged by Cricket Leinster for the 2021 season. These will be available closer to the beginning of the season.
If you haven't registered yet for the upcoming season, you can do so by clicking through the following link; https://www.cricketleinster.ie/news/registration-for-the-2021-season