Inaugural Fifty Ball League
On July 30th Cricket Leinster ran the first ever Fifty Ball League (FBL). This fixture started out as a way to include some of the fringe players that did not get picked for the Leinster U13 Girls MBD Festival Squad as well as those that were selected in order to act as a warm up match for the girls before they headed over to England. We were then looking at the Boys District Cup and the success it is having in providing a high standard of play for the boys at their age level and giving them an opportunity to play with players from other clubs, as well as in coloured clothing with white ball. We decided in the end to create a hybrid in order to align it with the new Hundred Ball League (HBL).
We invited a total of 53 players who had participated in Winter, Easter or Summer Cricket Leinster programmes. This was out of a total database of 91 players who were nominated by their clubs back in September to be invited to all these programmes. Our aim was to create four teams of 10 players, with the following district names (aligning with the boys District Cup): Fingal, Dún Laoghaire-Rathdown, South Dublin and Dublin City.
The players all played 3 matches each, with a total of 6 matches being played on the one day in Trinity College Dublin.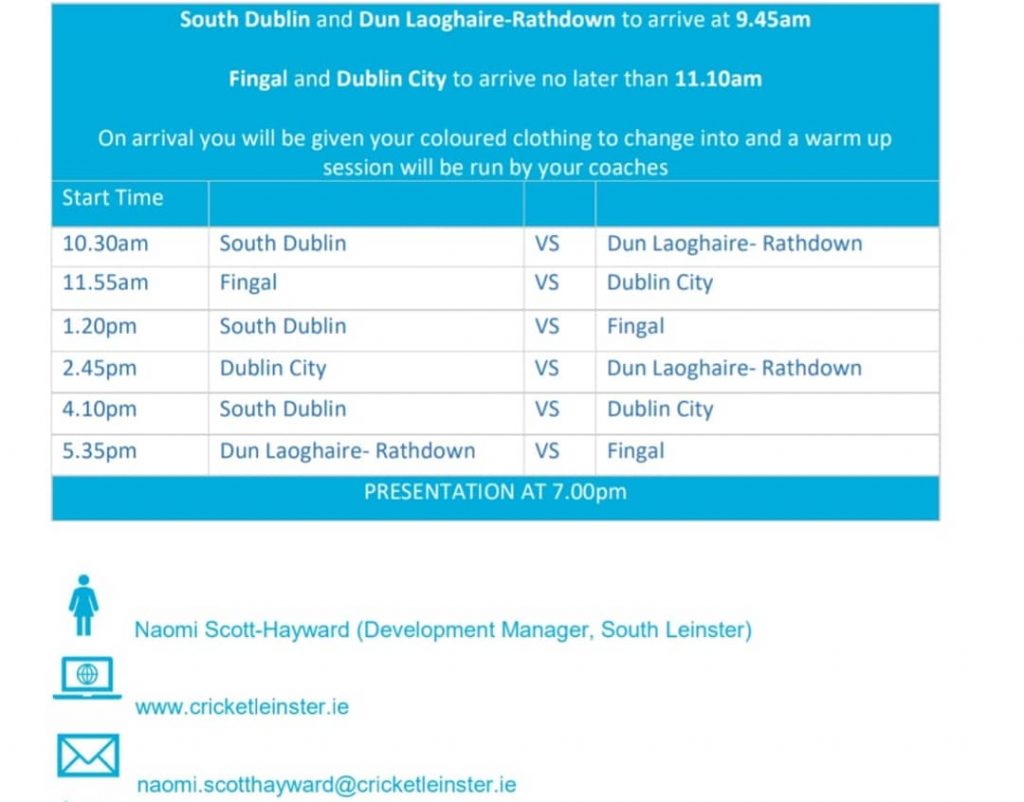 | | | | |
| --- | --- | --- | --- |
| | | | Results: |
| South Dublin | VS | Dun Laoghaire- Rathdown | DLR won by 26 runs |
| Fingal | VS | Dublin City | Fingal won by 18 runs |
| South Dublin | VS | Fingal | Fingal won by 11 runs |
| Dublin City | VS | Dun Laoghaire- Rathdown | DLR won by 16 runs |
| South Dublin | VS | Dublin City | Dublin City won by 7 wickets |
| Dun Laoghaire- Rathdown | VS | Fingal | Fingal won by 24 runs |
We played with the following rules for each 50 ball match:
5 balls per bowler (an over)
Max 10 balls per bowler (two overs)
Max 10 balls faced per batter then retired (wides not counted as balls faced)
Not out on first ball
No rebowl of wides and no balls, however 2 runs given to the batting team
Coloured kit, white 4 ¾ oz. ball (provided)
Well done to all players involved and congratulations to the Fingal team who won as well as the Runners Up Dún Laoghaire-Rathdown. Thank you to the coaches: Diarmuid Lynch, Isobel Joyce, Anne O'Meara and Killian Molloy as well as our helpers Anna Beale and Beth Dimond. A massive thank you as well to our scorer for the day, who had her hands full, Caoimhe O'Brien. Thanks also to Trinity College Dublin and to Dale and Jack for all their work before and during the day. We hope to build on the success of this to be able to expand on it for next year, if funding allows for it.