Girls Training Camp in Cape Town
This April 2019 eighteen girls from fourth and fifth year got the opportunity to travel to Cape Town, South Africa. Tess and Lara Maritz had travelled, over 2 years ago, for a school placement. However, this was Cricket Leinster's first organized trip with a group of this size.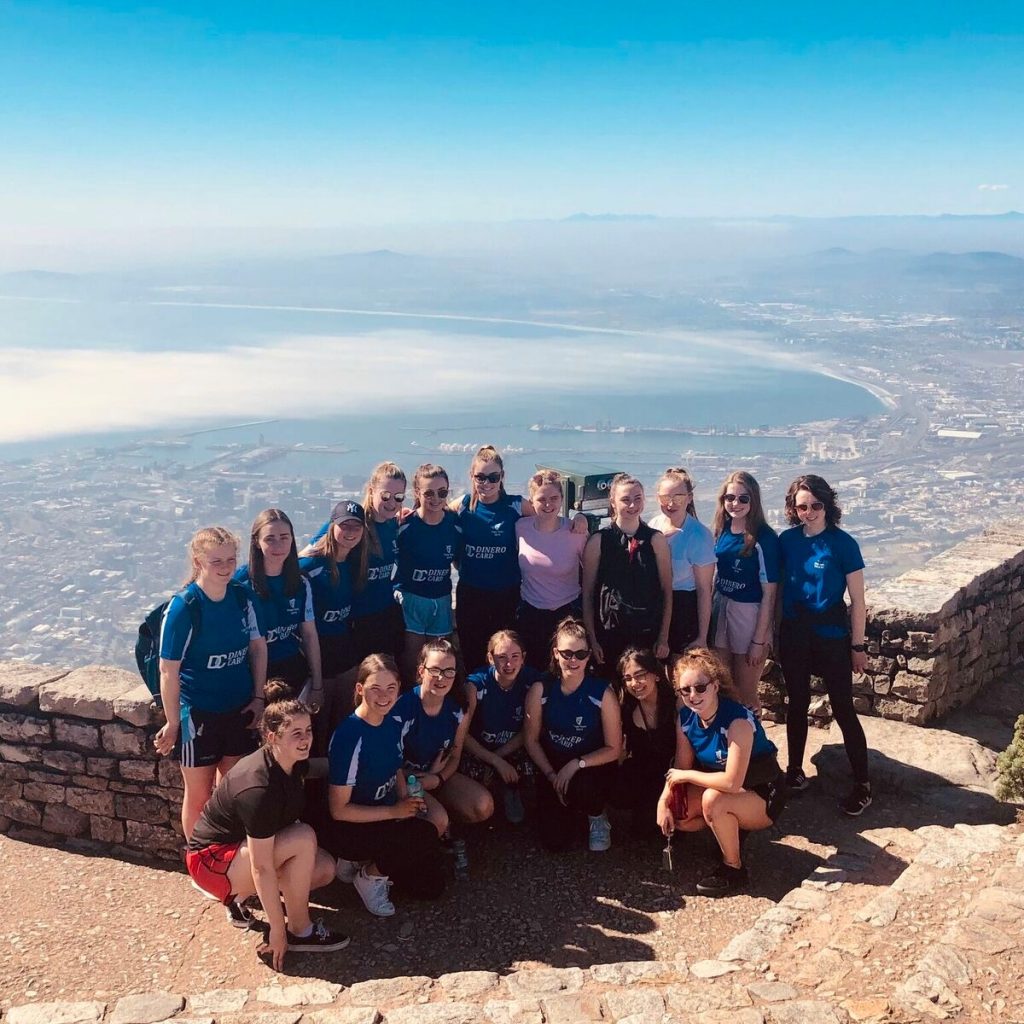 The offer was opened up to any girls playing cricket in the Leinster in the suitable years. An initial 26 girls showed interest. The final group ended up at 18 girls, 2 Leinster coaches and an amazing bunch of South African coaches. The Leinster coaches that accompanied us were Rob O'Connor and Naomi Scott-Hayward, while Brían O'Rourke was instrumental with the organization of the trip.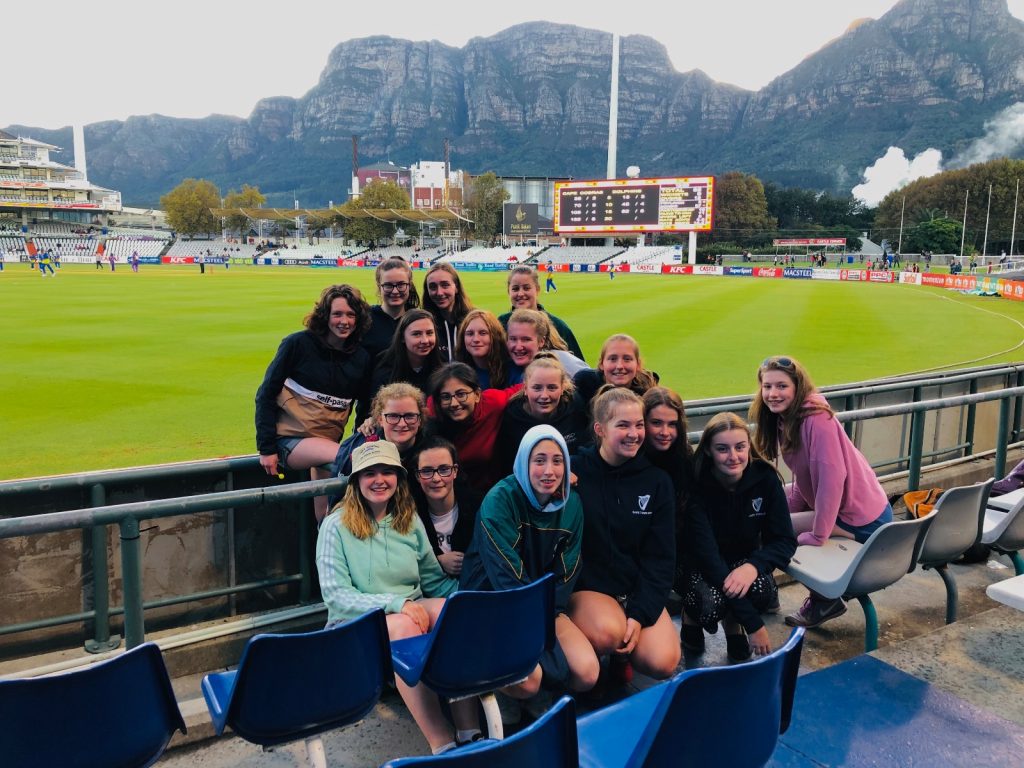 The buzz began with an extensive itinerary of trainings, matches, some daunting fitness, yoga and lots of activities to fill up the evenings.
After 26 long hours of travelling, fast tracking and napping we arrived in South Africa. The first two locals we met were our tour guide and driver for the trip, Gordon and Jongi, from EduAfrica. They were, little to our knowledge at the time, a key part of the trip. Our accommodation (Chartfield Guesthouse) was beautiful with the Indian Ocean a mere 200 meters from the front gate, a dazzling pool, and an amazing collection of foods.
Over the trip we trained in two locations, Muizenberg High School and the University of Western Cape(UWC). While in Muizenberg, we did fielding, net sessions, match situations and fitness. We also played both our matches there. The first match we played was four mixed teams of Leinster girls and students from Muizenberg High School and Belville Technical School. The second match we played was an intersquad match with subbed players from the school and the university to fill our numbers.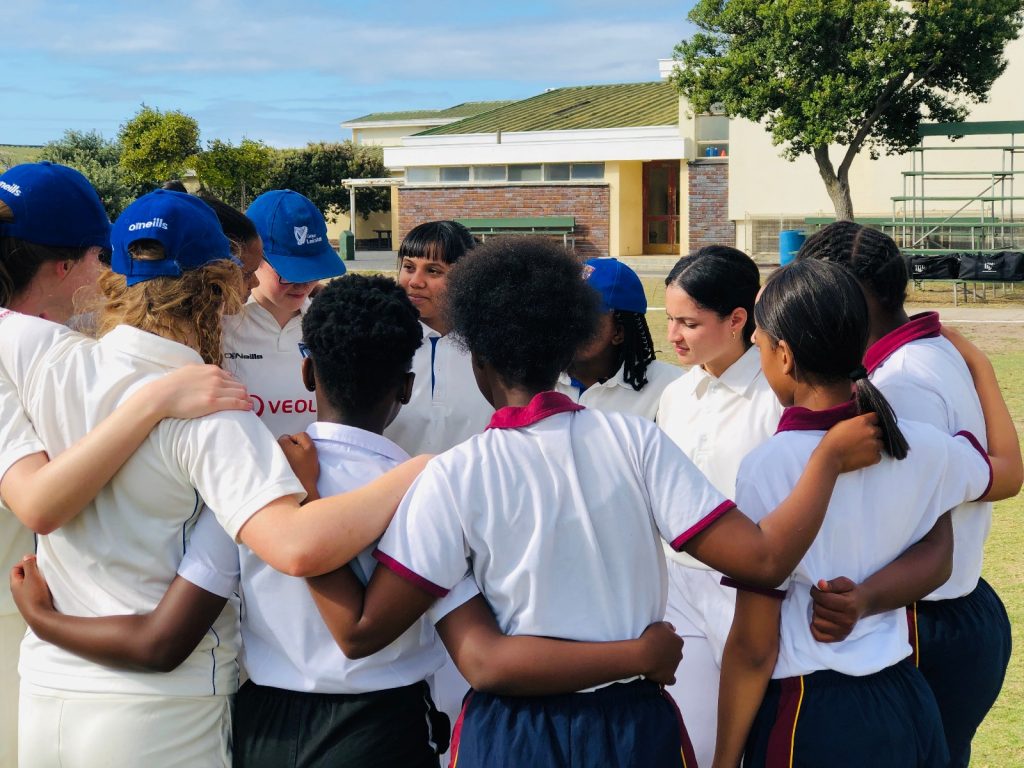 During training sessions in the college, we completed fitness, nets and fielding. The facilities we worked with were exceptional, we played on our first grass wickets of the season and we were challenged by different surfaces. Having grass nets was a completely new experience from all 18 of our players.
The coaches that helped us throughout the trip were Shandré Fritz, Andrie Steyn, Ezzy Van Aswegen, Ilona Philander, Ashley Fernandez and Stephen Jones. All the coaches worked tirelessly and all helped us with their specialist knowledge. Shandré was the head coach of the training side, and no matter how terrifying she was, she had such a positive impact on all of our players, during our training and the games. Shandré was the first female player to score a century for her country in T20 cricket. A powerful role model for us all, having overcome a severe personal injury and now continuing to give back to the game she loves through passing on her vast experience by coaching others.
Each day, after our allocated cricket sessions we had a range of activities. Some included provincial cricket matches, penguin enclosures, amazing meals, a cookery lesson, horseback riding, viewing Table Mountain, swimming on the beach and so many others.
One evening stood out to all the girls however. We were invited to Muizenberg School principal's house, Miss Jacobson's, for a braai one evening. There we ate traditional food, met some of the school children, socialized with everyone who helped us on the trip and met all their families.
At the end of the trip we had a meal with another gathering of everyone we had met during the trip. We all said our thank yous and wished each other good luck. There were very few dry eyes.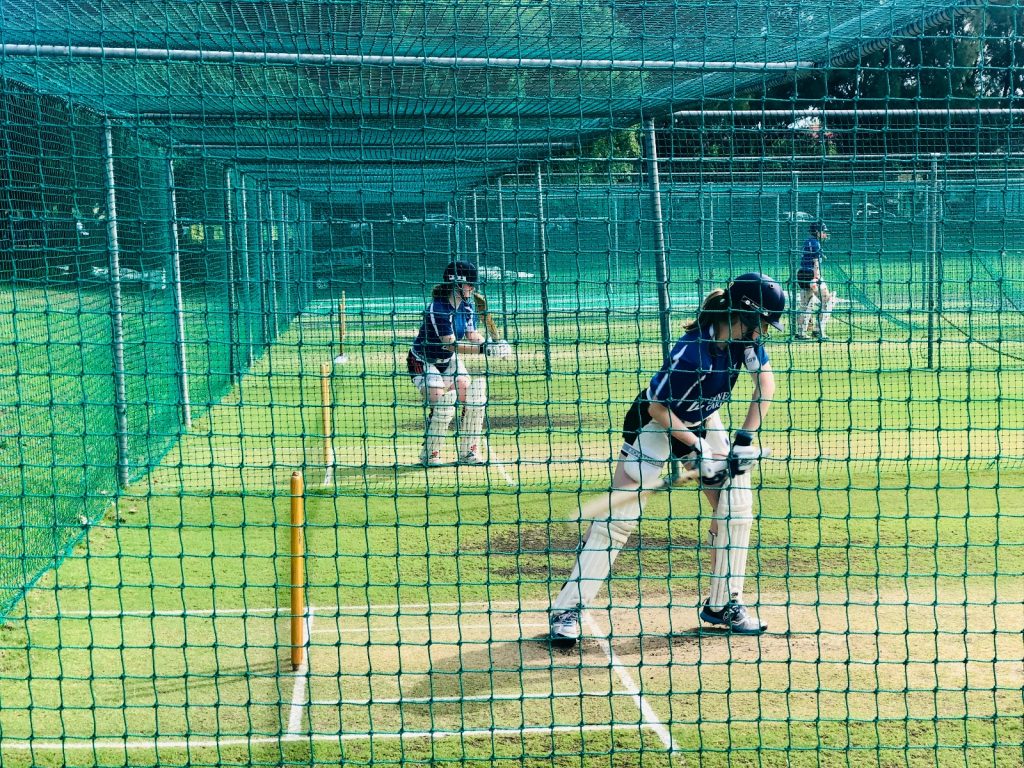 The things that we experienced over the trip left us in awe of both the country and it's people. Not only did we get the opportunity to train and improve our cricket skills, we also got to experience different cultures and meet all kinds of people. Everyone involved in this trip should be immensely proud of the impact they've had on us 18 teenagers. We've been taught so much and loved every second. We all hope this trip was just the start of this programme and that many more girls can experience the amazing opportunities we have had over those 10 days.
A final massive thank you to EduAfrica, UWC, Muizenberg High School, Belville Technical School, Cricket Leinster, Brían O'Rourke, our amazingly patient parents and above all Rob O'Connor and Naomi Scott-Hayward.
Players:
Aoife Brennan (Clontarf)
Christina Coulter Reilly (Clontarf)
Molly Butler (Clontarf)
Jennifer Sparrow (Leinster)
Orla Bagnall (Leinster)
Maria O'Halloran (Malahide)
Sarah Brophy (Malahide)
Sarah Condron (Malahide)
Mya Naughton (Merrion)
Anna Beale (Pembroke)
Cliodhna O'Riordan (The Hills)
Jane Maguire (The Hills)
Enya Mak (YMCA)
Kate McEvoy (YMCA)
Molly Streek (YMCA)
Roisin Staunton (YMCA)
Sarah Forbes (YMCA)
Vanshika Shukla (YMCA)
Written by Jenny Sparrow