FINGAL COUNTY COUNCIL & CL CHAMPION INCLUSIVITY WITH LAUNCH OF CRICKET4ALL GUIDELINES (12.9.2023)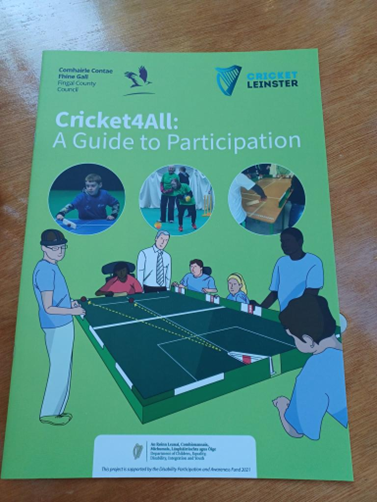 Asignificant step towards inclusive cricket was achieved today as the Mayor of Fingal, Councillor Adrian Henchy launched Cricket4All Guidelines. The Guidelines are the result of a collaborative effort between Fingal County Council and Cricket Leinster aimed at fostering inclusivity and intergenerational engagement within the sport of cricket.
TheGuidelines were developed following a joint initiative that piloted a multi-ability, intergenerational project in Balbriggan and Skerries which saw the participation of 136 young people with disabilities and older individuals. The coaching provided during the project created an environment where cricket became accessible to all, regardless of age or ability. These modified formats of the game not only encouraged diverse age and ability groups to play together but also facilitated inclusive participation within the same team.
Thehighlight of the pilot was Fingal's Inaugural Cricket4All Competition held during Fingal Inclusion Week, where intergenerational teams showcased their skills, camaraderie and indeed competitiveness.
Speaking about the project, the Chief Executive of Fingal, AnnMarie Farrelly commented:
"Fingal County Council is committed to enhancing the quality of life for its residents by fostering community engagement and inclusive projects that reflect the diversity of the region. The Cricket4All initiative is a testament to Fingal's dedication to promoting sports as a means of connection and empowerment. The intergenerational and inclusive nature of Cricket4All goes beyond the boundaries of sports. It offers an avenue for connection between different generations, fostering understanding and appreciation of differences."
Thebenefits derived from participation in the Cricket4All project were far-reaching. In addition to promoting 'fun' as an integral element, the initiative enhanced physical well-being, fine motor skills, literacy, numeracy, and communication skills. Participants also experienced increased self-esteem and confidence, fostering sporting attitudes, teamwork, and social interactions. The inclusion of both older and younger individuals within intergenerational teams provided an opportunity for the exchange of wisdom, support, practical skills, enthusiasm, and energy.
The project's impact extended beyond the cricket field, attracting volunteers who eagerly participated in coaching courses and disability awareness training, further enriching the community spirit of the initiative.
Philip Smith, General Manager, Cricket Leinster commented as follows:
"This collaboration with Fingal County Council on the Cricket4All initiative underscores Cricket Leinster's commitment to making cricket an accessible and welcoming sport for all individuals. The Guidelines will be a valuable resource for cricket clubs, schools, active retirement groups and organisations working with young people with disabilities or anybody wishing to play Cricket4All".
Support from the Department of Children, Equality, Disability, Integration and Youth (DCEDIY) Disability Awareness Fund 2021 was instrumental in bringing this project and the publication of the Cricket4All Guidelines to fruition.
For access to Cricket4All Guidelines visit www.cricketleinster.ie