THE TAIL OF THE TAPE – IBI CORPORATE FINANCE PREMIER LEAGUE 2023
The first of a new series of league reviews launches today, as we take a look back over the 14 round campaign of the Premier League season, picking out the highlights of the performances in the round, and the key games where the balance of power in the league ebbed and flowed right until the death.
By now, of course, everyone is aware that YMCA are the IBI Corporate Finance Premier League Champions for the 2023 season, and they will be presented with their trophy and medals at the CL Awards Night & Gala Dinner – also sponsored by IBI Corporate Finance – on January 19th in the Mansion House, you can buy tickets for the event here – https://buytickets.at/cricketleinster/967229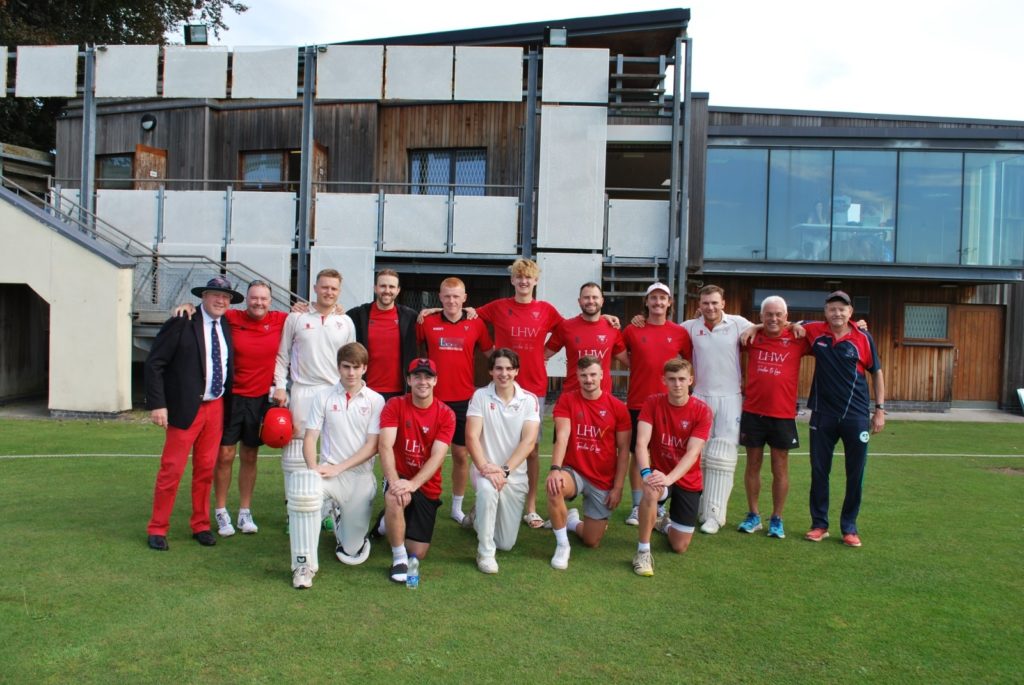 YMCA - IBI Corporate Finance Premier League Champions 2023
But how exactly did they get to the top of the pile after 14 games? Well, like all good fairytales, things didn't get off to a brilliant start for the Claremont Road side, and we begin just there, in round one of the fixtures.
JUNE 3RD
The opening day of the IBI Corporate Finance Premier League season for 2023, a day which saw 5 scores in excess of 250, as batting sides took advantage of some excellent 'Leaving Cert' weather and the conditions which came with it. The first result in the book of the season saw Railway Union all out for 117, Tómas Rooney Murphy taking the first of 11 five-wicket hauls in the league this season, and with it The Hills' best bowling figures for the league season too! A half-century from the trailblazing Nicolaj Damgaard Laegsgaard from just 28 balls helped lead The Hills to a 7 wicket win, and a near perfect start to the season! A tail of two centuries took place around the corner in Anglesea Road, John Anderson's 105 helped the home side rack up 276/6 in their 50 overs, before the innings of the weekend, an unbeaten 128 from Chris de Freitas, led Balbriggan to victory from what at one point was a very precarious position at 49/3. Continuing away from the dart line, Rathmines saw Leinster bat first, and Monil Patel became the first and only batsman to be dismissed for 99 in the league this season – his side racking up 254 before running out relatively comfortable 39 run winners. Castle Avenue saw the third century of the weekend, as Younas Ahmadzai made 101 for Malahide in their successful pursuit of Clontarf's score of 251/9. Far from a bowlers weekend to kick off proceedings in the league this time around!
Highlight of the Round; Chris de Freitas 128* vs Merrion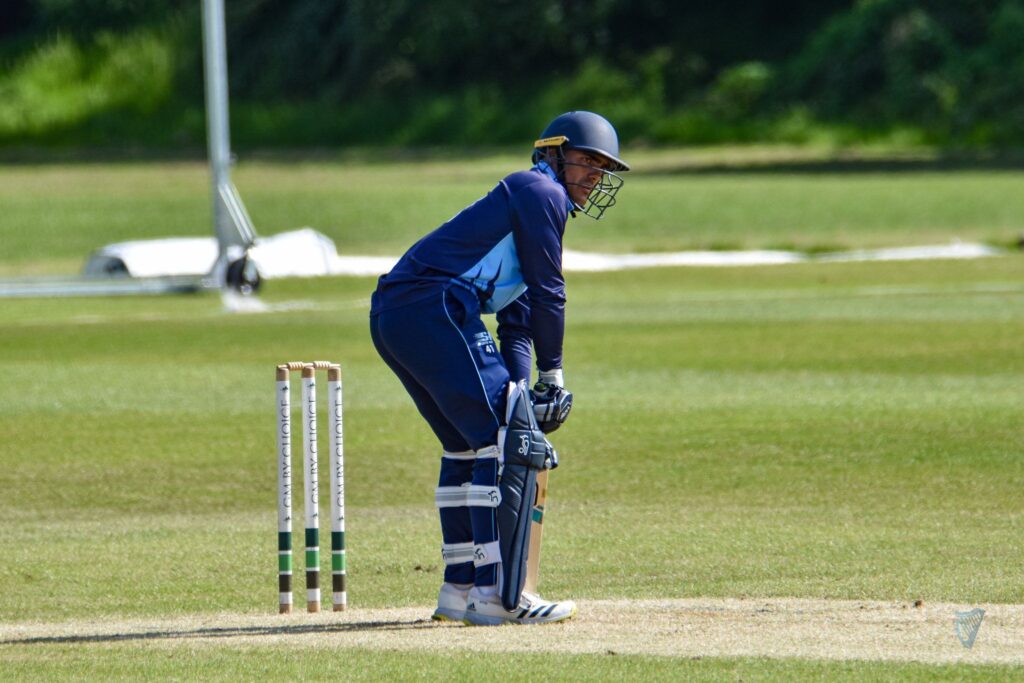 JUNE 10TH
Round two of the league season gave something of a flavour of the rest of the campaign – rain - as each of the four fixtures were completed with the assistance of DLS calculations. That however only added to the thrill of what went on. The Hills maintained their perfect start, again aided by their bowlers as Sean McNicholl this time took 5/24 in a 6 wicket win over Clontarf chasing a revised total. Whilst in Anglesea Road it was a case of a Trans-Tasman battle, where Kiwi Riley Mudford top scored for Railway Union, before Merrion's Aussie Sam Harbinson took 3/15 and made an unbeaten 72 to secure victory for the home side. Any other week, the game of the round may well have been the tie in Balbriggan, 95 from Greg Ford and 57 from Matt Pollard guiding the home side to 266, with three wickets for each of Tom Anders and Ash Burton helping YMCA restrict from what could have been a massive total. YMCA were clearly behind the 8 ball at 89/3, however an exhilarating 111 from just 93 balls from Adam Rosslee set his stamp down on the campaign as the visitors reached their revised target with 4 wickets to spare. That game however was trumped by the events on the international ground, Malahide got first use of the pitch on home turf and an opening stand of 174, between Grassi (83) and Kindley, who eventually made 102, set the game up perfectly for Ahmadzai to come in and blast 71 from just 33 balls and bring up the first score over 300 in the league season. Leinster's revised target was 233 in 34 overs, an extremely stiff task seeing them need nearly 7 an over, however Leinster's batting unit all played their roles brilliantly, as half-centuries from Bilal Azhar and Monil Patel set the game up, before Pete Francis donned his superhero cape for the first of many occasions this season to see the side home with an unbeaten 35, Leinster winning by 4 wickets with 3 overs to spare! Two rounds gone and only Clontarf and Railway remain winless as The Hills and Leinster lead the way at the top of the log.
Highlight of the Round; Adam Rosslee 111 vs Balbriggan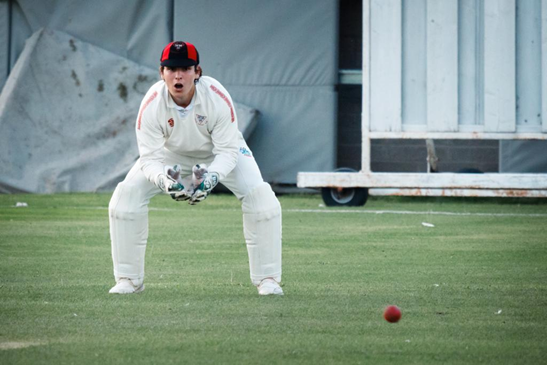 JUNE 17TH
Round three of fixtures saw a near total flip from round one, as no side passed 200, with Leinster's 194/8 being the highest total of the round. They were guided there by Patel and Francis who both made half-centuries, before an excellent all-round bowling effort dismissed Railway Union for 71 and secured full points for the Rathmines outfit, who at that stage leapt atop the table. In Claremont Road, YMCA batted first and for the first time this campaign, Adam Rosslee failed to pass a half-century, as another good shared bowling effort saw Malahide keep their hosts to just 169 all out. A half-century from Matt Ford had the visitors in the driving seat at 108/3, however the Munster Reds man's wicket lead to something of a collapse, as the teenage pair of Reuben Wilson and Olly Riley combined to take 7 wickets, 3 and 4 respectively, and bowl Malahide out 8 runs short of their victory target. The two successful chases of the weekend came at Anglesea Road, where John Anderson's half century helped Merrion hunt down The Hills' 160 with 4 wickets to spare, whilst in Castle Avenue, Greg Ford's unbeaten 74 saw Balbriggan chase down Clontarf's 182 with 10 overs and 6 wickets to spare! So after three rounds, only Leinster remained unbeaten and top the table, with Clontarf only above Railway at the bottom of the pile because of more bonus points.
Highlight of the Round; Olly Riley 4/25 vs Malahide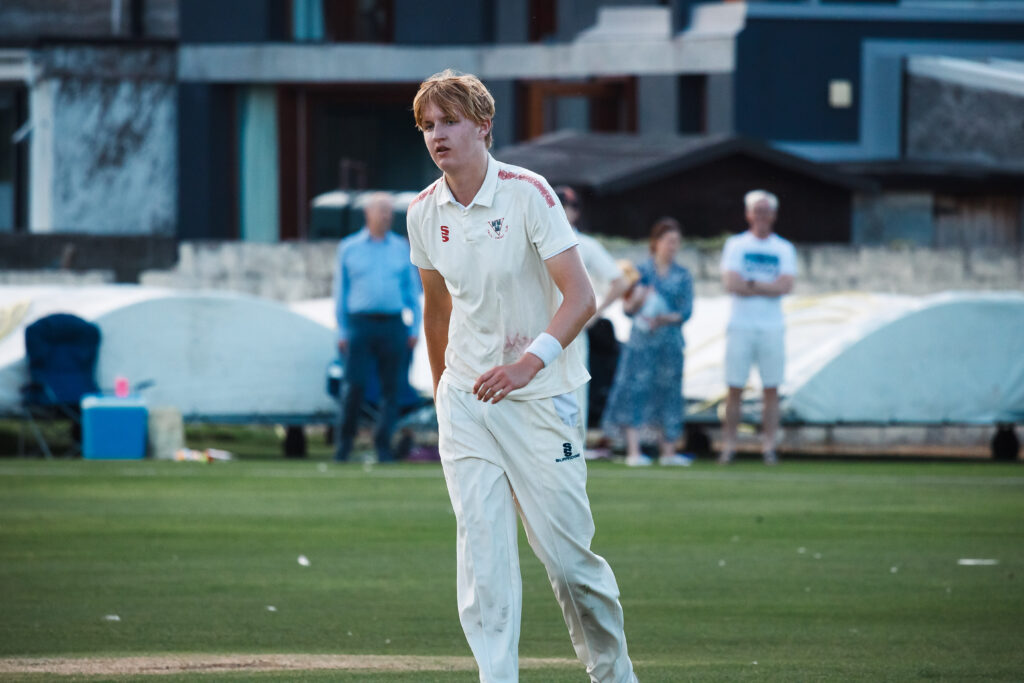 JUNE 24TH
There was an upturn in the weather and therefore an upturn in the scores yet again in round 4, with five sides passing 230 across the four fixtures. The lowest scoring game of the weekend saw Clontarf's season finally get up and running, thanks in no small part to David Delany who took 4/21 to keep Merrion to 150, before his 40*saw the side home with 6 wickets and 15 overs to spare. The most convincing win of the round saw YMCA make 245 all out, with another Adam Rosslee half century setting up the innings, before the middle order faltered leaving Mikey O'Reilly and Rory Anders to both make 40s to resurrect the innings. O'Reilly was the second man to complete a 40 and four-for double as his 4/27 helped dismiss The Hills for 111 and secure full points for YM and set their sights firmly upwards. In Malahide, the home side were given a bit of a scare by Railway Union, but their veteran gloveman Fintan McAllister top scored with 69 to help his side to 263. The visitors were well on top at 181/2, however five wickets shared between James Newland and Kelvin Donnelly forced a collapse and helped Malahide to a 37 run victory. The closest game of the round saw Balbriggan continue their push towards the top of the table, Kashif Ali took 6/52 to restrict Leinster from 207/4 to just 242 all out, before an excellent 88 from Chris de Freitas brought Balbriggan to the brink of victory, with the game settled in a nervy 14 run unbroken 10th wicket stand. Balbriggan, YMCA and Leinster all now sat on 3 wins from 4 games, with Railway still rooted to the foot of the table and beginning to fall adrift.
Highlight of the Round; Kashif Ali 6/52 vs Leinster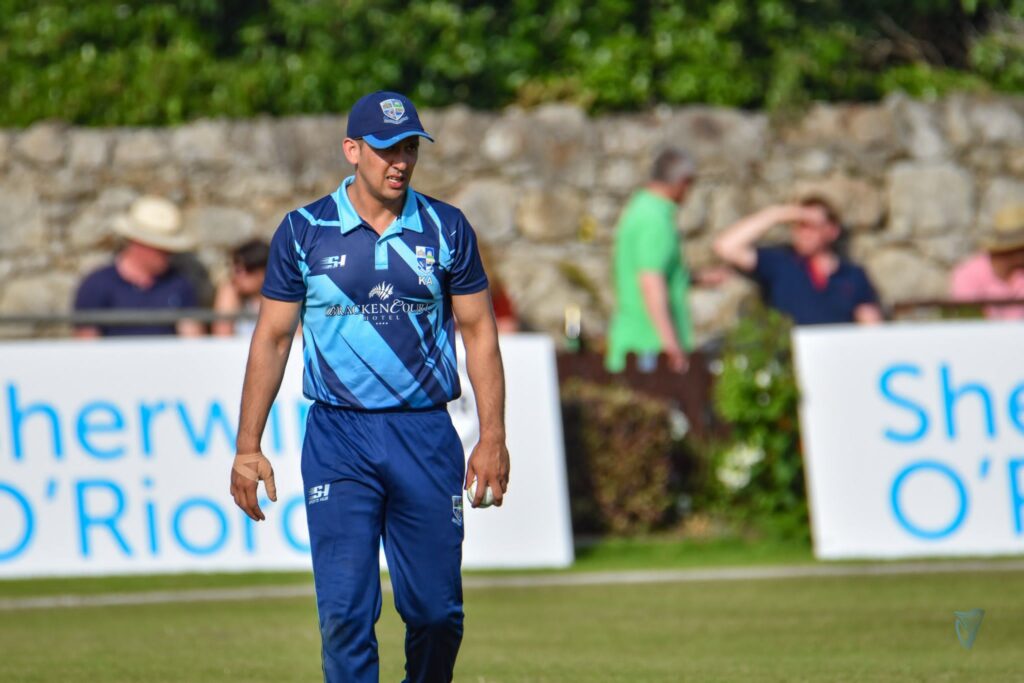 JULY 1ST
The good batting conditions continued into the beginning of July, with again just one low-scoring game taking place, Clontarf's seamers blowing Railway away for just 144, before a breezy 63 from Bobbo Forrest did most of the damage in a swift run chase, and Railway cut further loose at the bottom with this defeat to their nearest rivals. In Balbriggan, a sensational match-up took place, the home side made 260 all out, with the skipper Greg Ford finishing unbeaten on 100, before brother Matt decided that he would get in on the act, with his superb 116 guiding Malahide to a 4 wicket victory with 7 balls to spare as Balbriggan were left to rue the 15 balls they left behind in their innings! The preview for the game in Rathmines on this weekend read that "the true test of Leinster will be how they perform when Patel and Carroll don't make runs" and on this occasion, the rest of the side stood up, an unbeaten 83 from Pete Francis, 79 from Mick Hogan and 71 from Saqib Bahadur put down a marker that the side were genuine contenders, Bahadur then followed up with 4 wickets as the home side won by 40 runs. The relentless YM batting unit again worked around Adam Rosslee in Claremont Road, as 60s for each of him, Rory Anders and Ash Burton guided the side to 252 in their 50 overs. Merrion were firmly in the driving seat at 173/0, however an astonishing spell saw the side lose their 10 wickets for just 52 runs, Tom Anders destroyer-in-chief with 5/37 as another 'come-from-behind' victory was secured for the Claremont Road men.
Highlight of the Week; Matt Ford 116 vs Balbriggan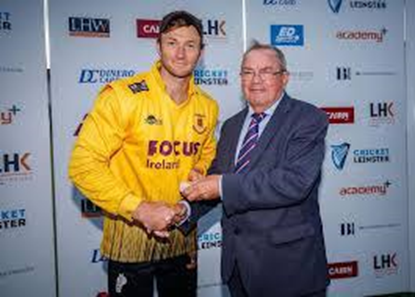 JULY 8TH
Round 6 saw a surprise which nobody predicted, as the in-form Balbriggan side visited Park Avenue, Railway Union were indebted to 4/41 from Hamza Maan to reduce their visitors to 167/9, before an excellent stand between that man de Freitas and Eoin Birch brought them to 230/9 in 50 overs, de Freitas finishing unbeaten on 105. Railway however were right on top as 71 from just 44 balls from Riley Mudford took them within 40 of victory, and despite a wobble 'The Patch' secured a 4 wicket victory. In Malahide, four wickets for Mike Frost and three for each of Peter Chase and Hunter Kindley saw The Hills all out for 153, before Kindley and Ali Frost both made unbeaten half-centuries to complete an 8 wicket victory, as Malahide kept steadily making progress in their season. In Clontarf, David Delany's 4 wicket bag saw YM bowled out for 186, with Clontarf not exactly setting the world alight with a sedate chase culminating in a 5 wicket win. The most bizarre game of the day was played out at Observatory Lane, as Merrion once again got off to a good start, however fell from 150/1 to 191 all out, Francis taking 4/21 for the home side. In response, Leinster then collapsed at the beginning of their innings, falling to 61/6 before eventually being bowled out for 150 on a day where none of the title contenders could take advantage of the other slipping up!
Highlight of the Week; Hunter Kindley 3/25 & 74* vs The Hills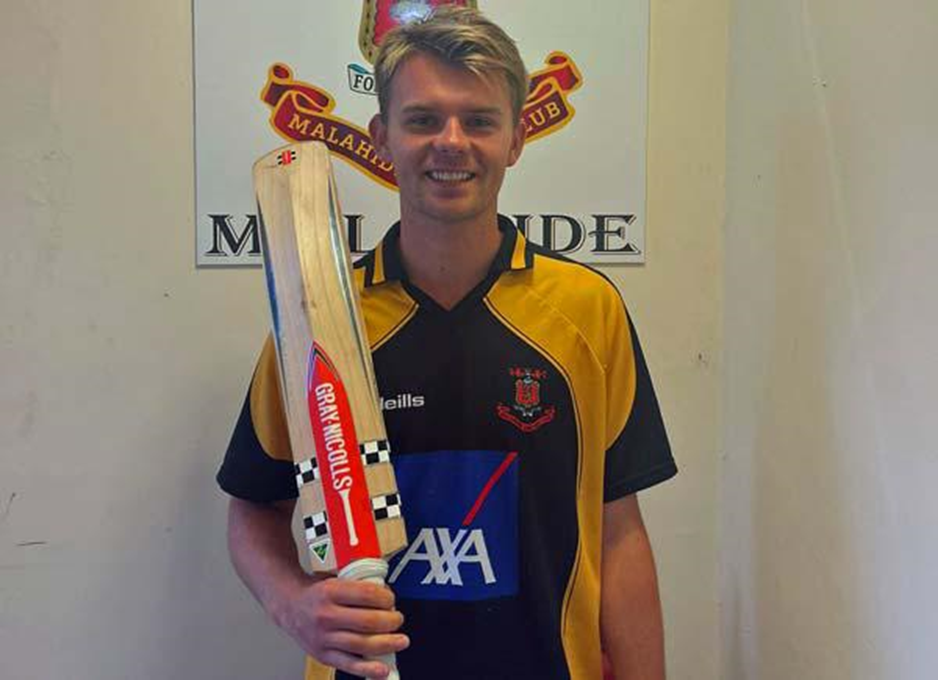 RAIN BREAK
A luckless two weeks encapsulating the 15th and 22nd of July saw just 15 overs of cricket played in the league across what would ordinarily be the height of the summer – this period also saw a near fully abandoned IP20 festival in Bready, proving the conditions to be awful across the whole country.
JULY 29TH
The 9th round of the season was essentially the beginning of the second half, with round 8 falling foul of the mid-season rain offs. Balbriggan hit the ground running, as three-fors for each of Matt Pollard and Sam Willemse helped knock Leinster over for 114, before Farooq Nasr's unbeaten 67 saw the side to a 9 wicket victory. Next up, Clontarf needed half-centuries from David Delany and Ruan Cronje to provide a total of 218, before holding Merrion 20 runs short thanks to a solid all-round bowling effort. In Park Avenue, Malahide continued their good form as a magnificent 145 from Hunter Kindley, accompanied by a brilliant 88 from just 52 balls for Younas Ahmadzai, brought them to 293/6 in just 33 overs, Railway could manage just 212 in reply as Malahide restricted the basement boys to secure a full point victory. YMCA put in the performance of the round, as once again their classy left-hander Adam Rosslee stroked a fabulous unbeaten century as the away side made 263/6, Harry Tector's 4/33 put the Claremont Road men well on top and The Hills could never recover, Tim Tector taking an outrageous catch at mid-on for the final wicket to fall in another 25 point haul for the away side.
Highlight of the Week; Adam Rosslee 110* vs The Hills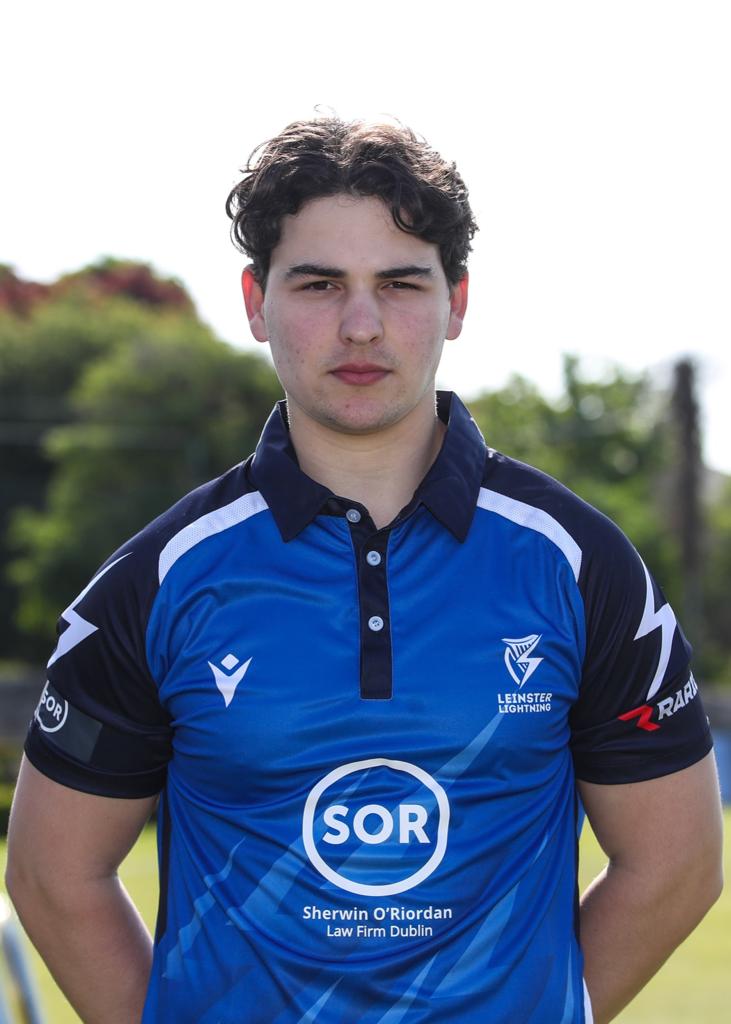 AUGUST 13TH
After a weekend off, the league resumed with a battle between the bowlers in Castle Avenue. Clontarf firstly fell to 136 all out thanks to an impressive 5/16 for Sean McNicholl, however not to be outdone, David Delany pounded down the hill for Clontarf and duly rolled The Hills over for just 78, with his 7/43 being the best figures of the season at that point. At the opposite end of the scale, Balbriggan batted first at home against YMCA, Ghanim Dara anchored the innings with 95, as the home side racked up 314/9, restricted only by Tim Tector taking 6/75. Kashif Ali took 4/40 as YM could muster just 168 in reply, a massive win for Balbriggan. In Park Avenue, Railway batted first and 88* from skipper Philippe le Roux guided them to 250 all out, 3 wickets for each of Sam Harbinson and Tom Stanton. In reply, 55 from John Anderson and 78 from Harbinson had gotten Merrion into a decent position at 155/2, however the issues which they have had all season came back yet again, with three wickets for each of Brandon Kruger and Zaman Safi contributing to a collapse of 8/62, and a 33 run loss for the away side. The best performance of the round undoubtedly came from league leaders Leinster, who having won the Irish Senior Cup the previous day, travelled back from Waringstown to take on Malahide, Joey Carroll made an unbeaten 71, whilst Pete Francis' 36 guided the side to 208/9, before the latter then took 2 important wickets of Kindley and McAllister in the second innings. Malahide could never get out from behind the 8 ball, and were all out for 186, handing Leinster some real initiative in the title race.
Highlight of the Week; David Delany 7/43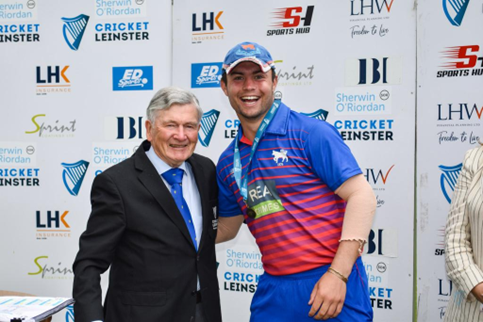 AUGUST 19TH
YMCA vs Railway Union fell foul to the weather early in the day on this occasion, leaving just three fixtures in Round 11. Leinster duly took the opportunity to extend their lead at the top of the table, as each of their numbers two through seven contributed to a total of 241/7, before four wickets for Gareth Delany and three for Joey Carroll, who earlier top scored with 52, saw Clontarf rolled over for just 131 and a full complement of points head to Rathmines. Merrion's highest score of the season was accompanied by a customary collapse, Stephen Doheny made 128 along with 93 from Jack Carty, however from 303/3 the side contrived to 346 all out with an over to spare! There was little to fear in the chase, as Malahide refused to die wondering and could muster just 165 all out inside 31 overs. The last game of the day saw The Hills put together an excellent total of 201/5 from just 32 overs, with half centuries for Cormac McLoughlin-Gavin and Murray Commins. Balbriggan's chase never really got going, and what was ultimately The Hills handing themselves a lifeline had more or less finished their opposition's chances of a late run towards the league title, Cian Nulty the pick of the bowlers taking 4/19 against his former club.
Highlight of the Week; Joey Carroll 52 & 3/16 vs Clontarf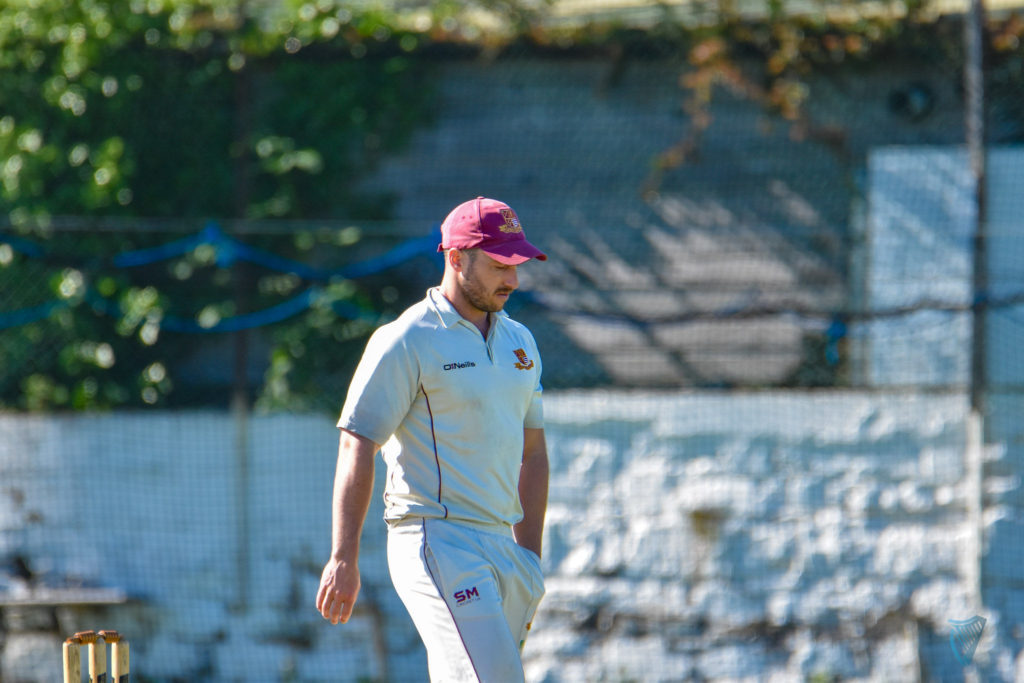 AUGUST 26TH
The rain returned to round out August, as only one result was reached in the 12th round of fixtures. Balbriggan managed to bowl Malahide out for just 94, four wickets for Sam Willemse and three for Dylan Lues giving their side a chance to beat the rain, before a hell-for leather style chase saw three scores in the teens as Balbriggan chased their revised total inside 13 overs. Elsewhere, Leinster will have felt unlucky having kept The Hills to just 140 and had their innings cut a cruel 6 overs short of a result, Saqib Bahadur's five wicket haul the pick of the game there. Elsewhere, Railway were 2/2 chasing 184 on home soil against Clontarf, with YMCA's innings cut at an equally early stage in their chase of 218 against Merrion.
The following day saw the only fixture between Railway Union and YMCA of the season take place, three wickets for each of Tom Anders and Padraic Flanagan held the Park Avenue side to just 120 all out, before an unbeaten half century for Jack Tector saw the Claremont Road men to a comprehensive 8 wicket victory and kept the pressure on Leinster at the top of the table.
Highlight of the Week; Sam Willemse 4/20 vs Malahide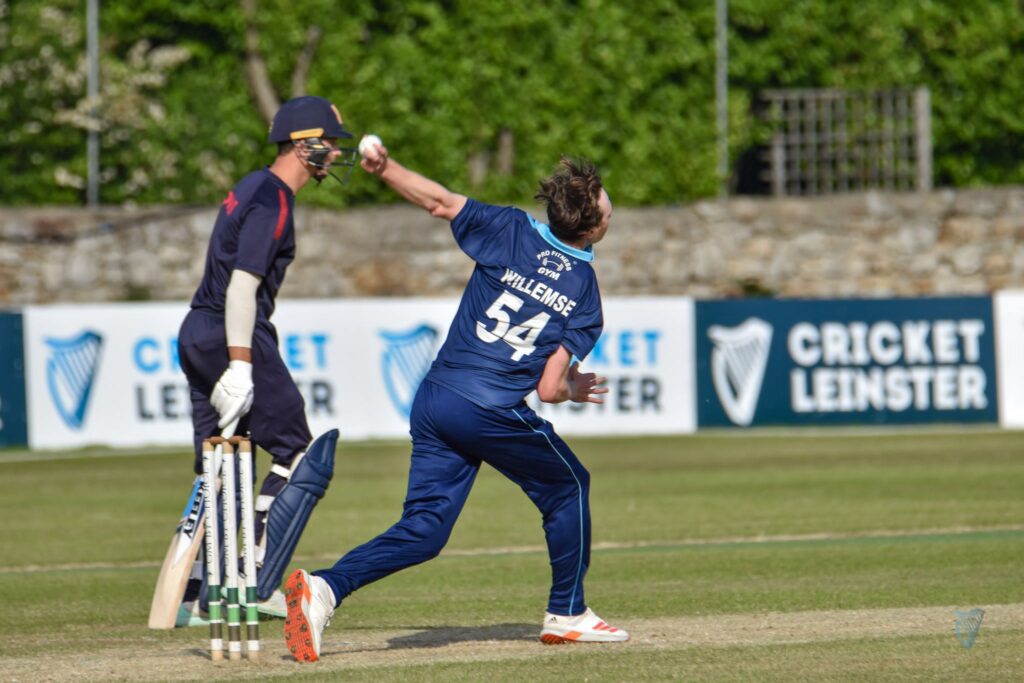 SEPTEMBER 2ND
The penultimate round of the season saw results fall almost perfectly to ensure another weekend of nail biting cricket would occur to round out proceedings. Railway Union made a habit in previous seasons of coming back from the dead, and they threatened to do just that yet again, Zaman Safi providing the league's best bowling figures this season with 7/25 rolling Balbriggan over for 64. A nervy chase ensued however a four wicket win was plenty to the Park Avenue outfit kicking into Round 14. The Hills were the second Fingal side to succumb to a sensational bowling spell, as Mike Frost delivered an excellent 6/23 to cut them down from 66/2 to 108 all out. Malahide had a stumble of their own, however a three wicket win meant that Premier League cricket in Skerries in 2024 remained in a precarious position. Half-centuries from Bahadur and Gareth Delany guided Leinster to 277/9 in their 50 overs against Merrion, before the latter starred with the ball taking 3/34 in his 10 overs including the big wicket of John Anderson who made 81, as Merrion made 238 all out and restricted Leinster to just one bonus point in their victory. YMCA kept Clontarf to just 182/7 in their 50 overs in Claremont Road, and in almost a mirror image of the return game in Castle Avenue, bled out a sedate chase to ensure a 5 wicket win inside 40 overs, meaning they closed the bonus point gap on leaders Leinster by 2 on the weekend.
Highlight of the Week; Zaman Safi 7/25 vs Balbriggan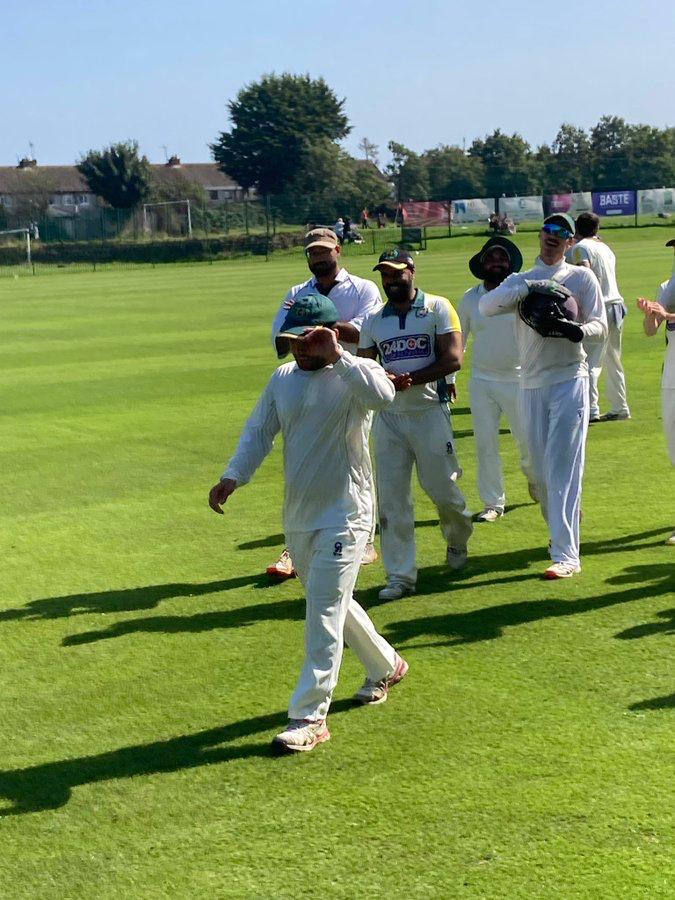 SEPTEMBER 9TH
The final round of the season saw a dead rubber game between Clontarf and Balbriggan, the home side managed 213 all out, Forrest top scoring with 36. In reply Balbriggan chased the total down by 5 wickets, thanks to 79 from Cameron Rowe and Chris de Freitas. The first result of the day saw Railway do all they possibly could to put themselves into the relegation play-off, four wickets for Hamza Maan the pick as they kept Leinster to 117 all out in the 43rd over. The chase wasn't without a wobble, however a 52 run partnership between Brandon Kruger and Liam McCarthy saw the side to the brink of victory, a five wicket win doing enough to move the home side to 7th in the table for the time being. YMCA's fairytale dream appeared to be on it's knees at 33/3 and again at 94/6, however Adam Rosslee was once again the inevitable force which was able to drag the side back into the game, an excellent partnership with James Forbes helped the home side to 239/9 and gave them a significant chance of a victory which could secure them the title. Mikey O'Reilly then grasped the opportunity with both hands, taking five of the first six wickets to fall, including three catches for Rosslee behind the stumps, as Malahide fell to 27/6 and saw Claremont Road cock-a-hoop. Mike Frost made 55 to prolong the wait, however Malahide eventually succumbed to 122 all out in 36 overs and secured the IBI Corporate Finance Premier League title for 2023 for YMCA. That however wasn't the end of the drama on September 9th, as The Hills were busily chasing down Merrion's 189/9 in Skerries, Jonathan Tall's left arm tweakers had taken 3/19 from 10 overs, proving the pitch would almost certainly take turn in the second innings. An incredible 91 from just 47 balls from Nicolaj Laegsgaard put The Hills right on top, and at 140/2 they looked well set to keep their fate in their own hands, however Hugh Kennedy dismissed the big Dane LBW and suddenly there was a case of panic stations. The Merrion left-arm spin pair of Danny Forkin and Tom Stanton turned the screw, with the Anglesea Road side finally inflicting a collapse upon an opposition. The last 5 wickets for The Hills falling at a cost of just 9 runs, as they fell 9 agonising runs short of their target and with that ended the season in last place in the league.
Highlight of the Week; Mikey O'Reilly 5/17 vs Malahide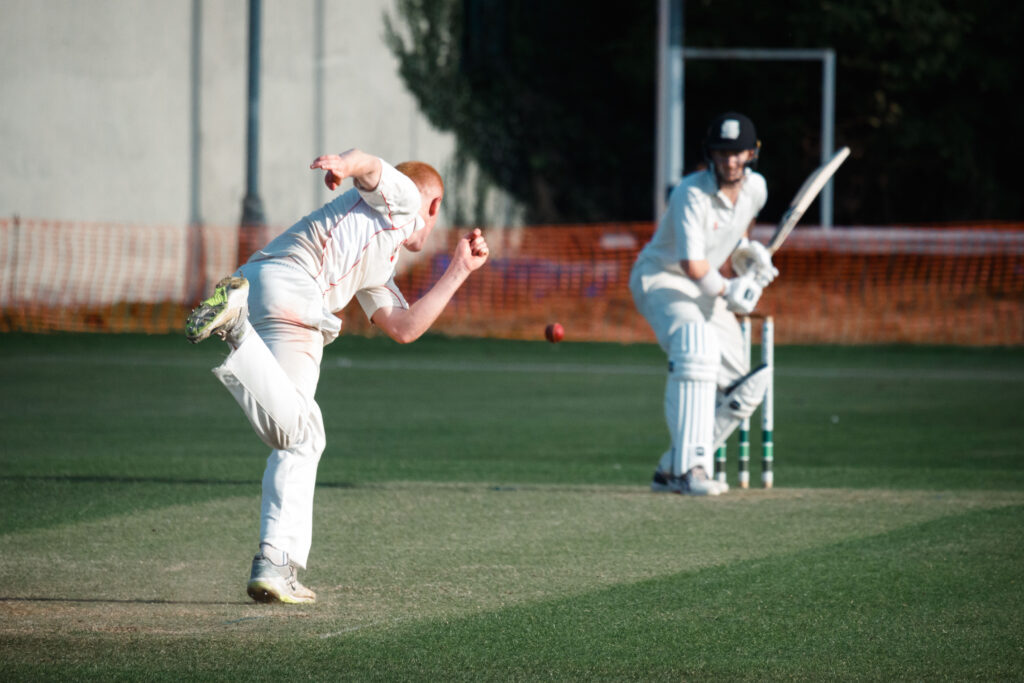 YMCA will be presented with the IBI Corporate Finance Premier League trophy at the CL Awards Night & Gala Dinner - also supported by IBI Corporate Finance - in the Round Room at The Mansion House on January 19th. All other league and individual award winners will also receive their trophies on the night and tickets for the event can be found here - https://buytickets.at/cricketleinster/967229