THE PRESIDENT'S LOG: EPISODE 10 – THE FINAL COUNTDOWN!
27 August - By the look of the schedule, the next fortnight was going to be less busy, but full of tension and suspense with the various leagues finishing up. Firstly, however, there were some important cup finals to be played so I travelled to The Maws, Kilcock for the finals of the Adamstown and Minor 2 Cups.
In the Adamstown Cup, Sandyford played Kilkenny, and the enthusiasm of both teams was a joy to behold. Sandyford won the toss and elected to bat first, but there were no fireworks initially as only 26 runs were scored in 6 overs. The crucial phase of Sandyford's batting performance was the last five overs when 52 runs were scored to give them a total of 118 runs.
In reply, Kilkenny struggled from the outset, and after 9 overs had lost 6 wickets for only 26 runs. The lower order added another 40 runs, which left Kilkenny 52 runs short, and gave Sandyford the Adamstown Cup. Very well done to both teams for the splendid spirit in which the game was played, and an extra congratulations to the designers of the team outfits because both sides looked wonderful.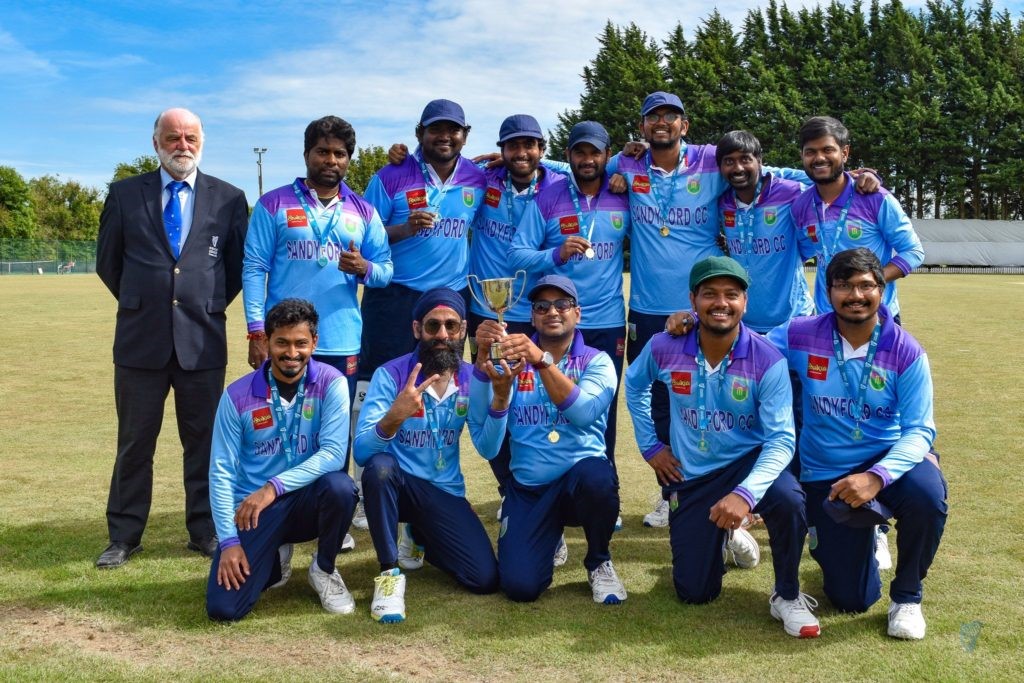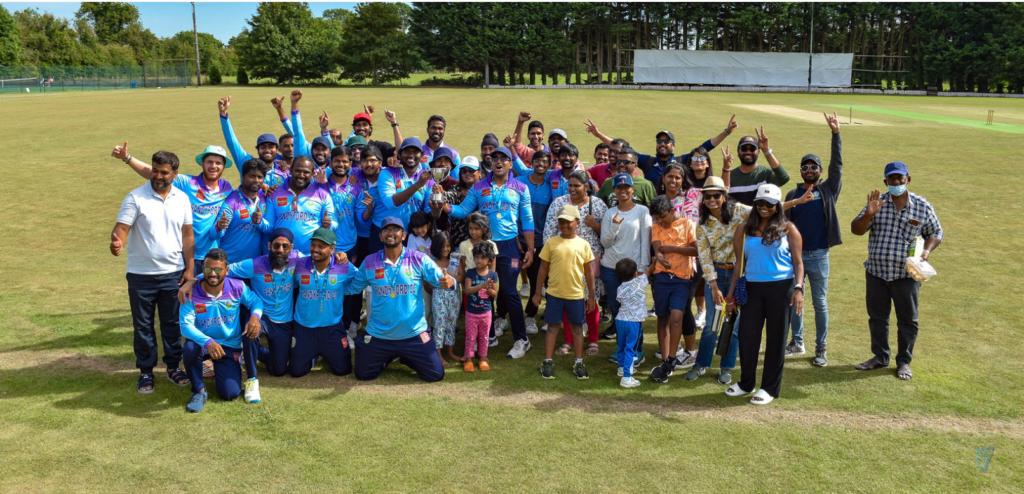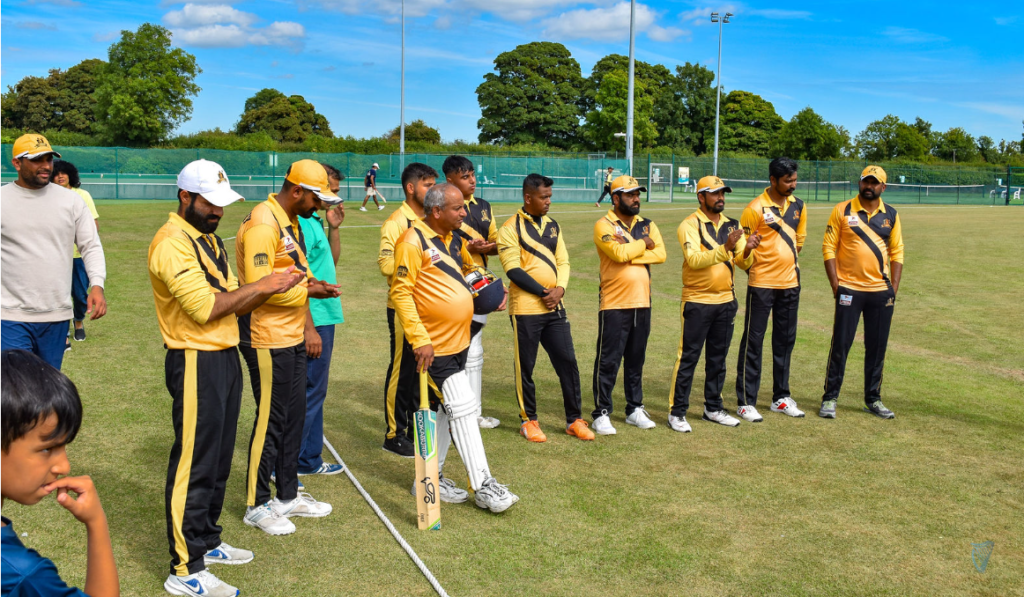 Finglas 3 and Clontarf were in opposition in the Minor Cup Final in which Clontarf won the toss and elected to bowl first. Freya Sargent bowled beautifully and took 2 wickets for 13 runs in 4 overs. At 24 for 4 in 8 overs, Finglas's chances of posting a competitive score appeared to be remote, but the last 4 overs yielded 34 runs to give Finglas a total of 110 for 8.
Clontarf's approach to chasing its target provided lots of excitement and suspense because the opening pair of Alice Walsh and Harry Irving decided to play a version of "tip and run" which resulted eventually in both of them being run out. At 41 for 6 after 10 overs, Clontarf's chances of winning were disappearing rapidly, but a cameo of 17 runs by Jon Barry gave Clontarf renewed hope. Hannah Pasley and Michael Fitzsimons strove valiantly, and brought Clontarf up to 80 runs, but Fitzsimons was caught on the boundary off a full toss, and Finglas had won by 30 runs.
All four teams who contested the finals had excellent support from senior officials in their clubs and family members. It was good to have a chat with Dónal O'Sullivan who has been a most attentive President for Clontarf and has attended practically every final in which his club has been involved. Congratulations also to Michael Lowe for the manner in which he has managed and mentored a very young Clontarf team.
It is a number of years since I had been to the Maws, and North Kildare Cricket Club has done wonderful work on its grounds and general facilities. Thanks very much to Brian Horn, President of North Kildare for the welcome which we received and for hosting the Finals. Thanks also to Michael Cotter for his usual efficiency in organising the finals, and to Matthew Smith for providing a superb set of photographs.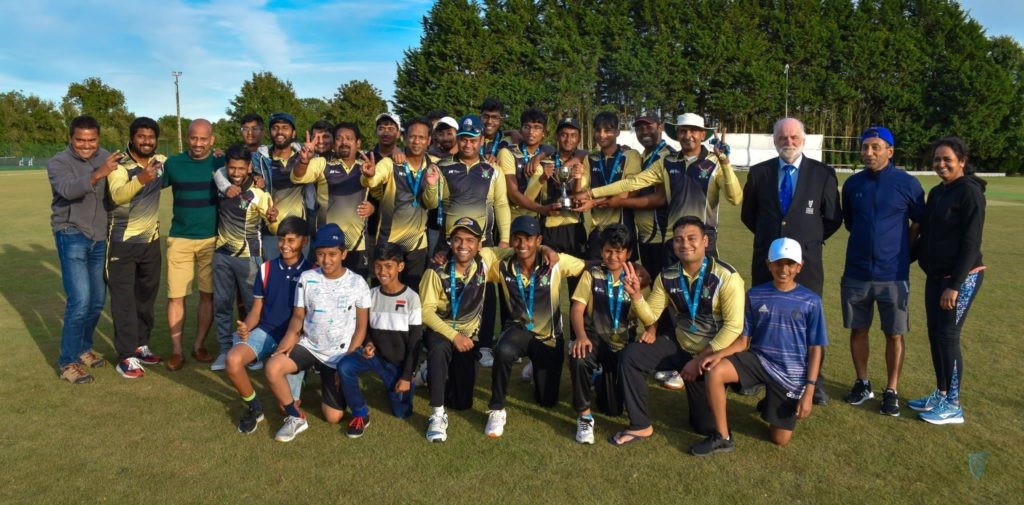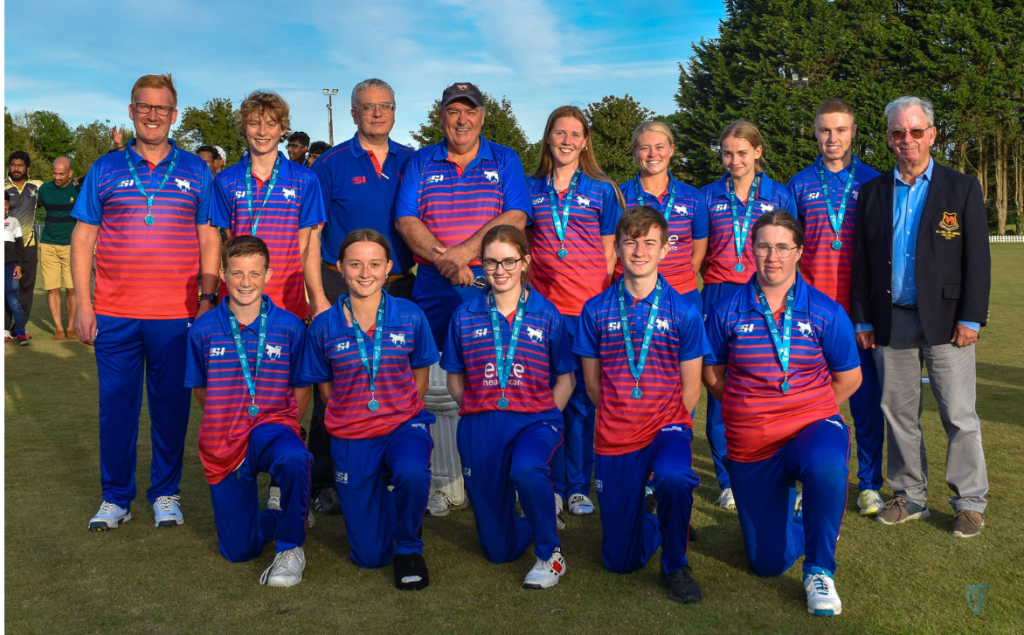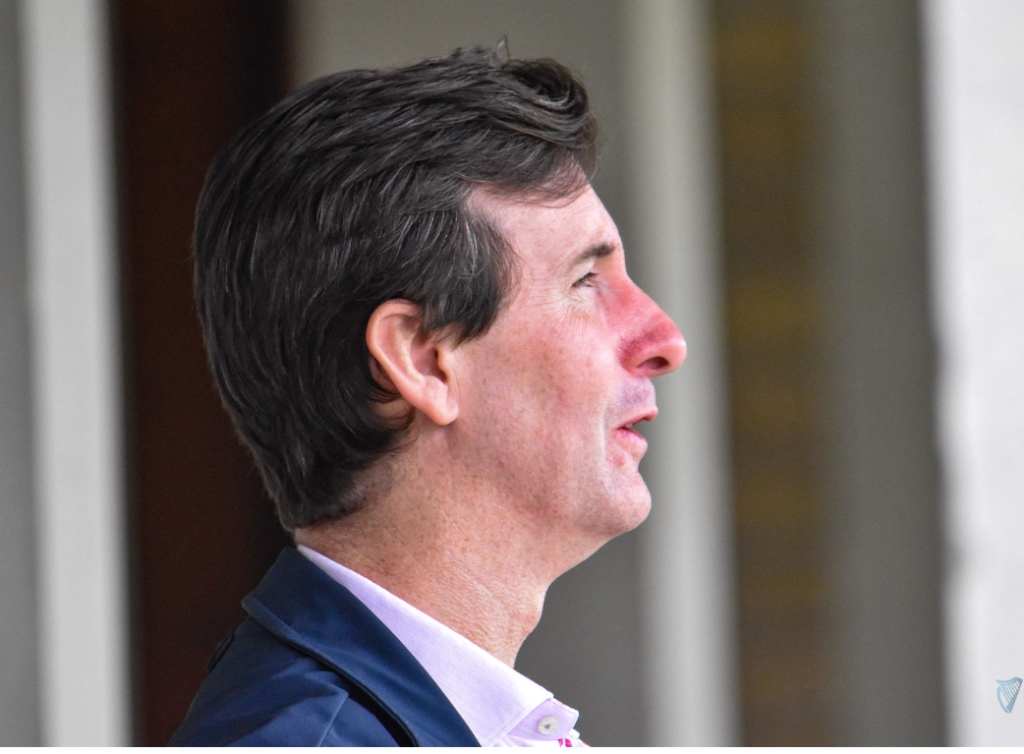 28 August - In conjunction with the Merrion versus The Hills game at Anglesea Road, the home club had organised a Sponsors' Lunch, and Andrew Kay, President of Merrion CC, had very kindly invited Michael Dwyer, President of The Hills, Kathleen Gavin, interim Chairperson of The Hills, and me to attend.This turned out to be a tough day for The Hills so you will excuse me if I concentrate on sartorial and culinary matters.
Pride of place in the fashion stakes went to Eddie Lewis for his sports jacket which my fashion advisers informed me was terracotta in colour. Unfortunately, Eddie had shed the jacket by the time Matthew arrived after taking photographs at a Youth Final, so I am not in a position to provide photographic evidence of Eddie's iconic fashion statement, but it was very close in colour to Michael Dwyer's trousers.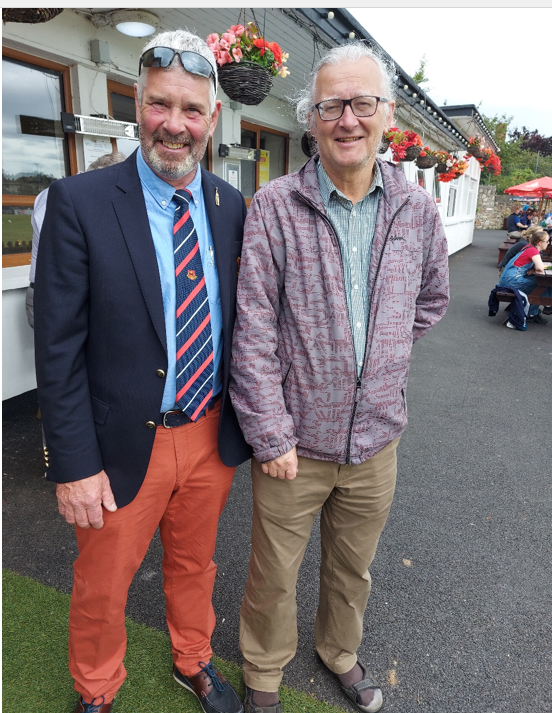 The Sponsors' Lunch was a very pleasant affair, and regular readers will be pleased to see the extent to which my palate has become more educated, although on this occasion, it wasn't by choice because I simply ate whatever was put in front of me. The starter was Antipasto sharing platter which I had never heard of, but it consisted of cheeses, grapes etc and some bread. The main course was another new one on me – Bavette Steak, café de Paris butter, asparagus and French fries, and the dessert was a raspberry coulis and hazelnut roulade with fresh fruit. Thanks very much to Merrion CC for the invitation, the pleasant company and Leroy's for the very nice food.
With every club having three games left to play in the IBI Corporate Finance Premier League, we have arrived at the business end of the season. Merrion won the toss and elected to bat first. The first partnership (Carty and Joyce) put on 56 runs, and the second wicket fell in the 14th over when Merrion had accumulated 90 runs. The third wicket brought the score up to 134, and pessimistic Hills' supporters were predicting that the team would be chasing a score somewhere in the region of 300 runs. From that point onwards, The Hills began to take wickets more regularly, but every Merrion partnership was making a significant contribution to the score, and Merrion ended on 265 runs for 8.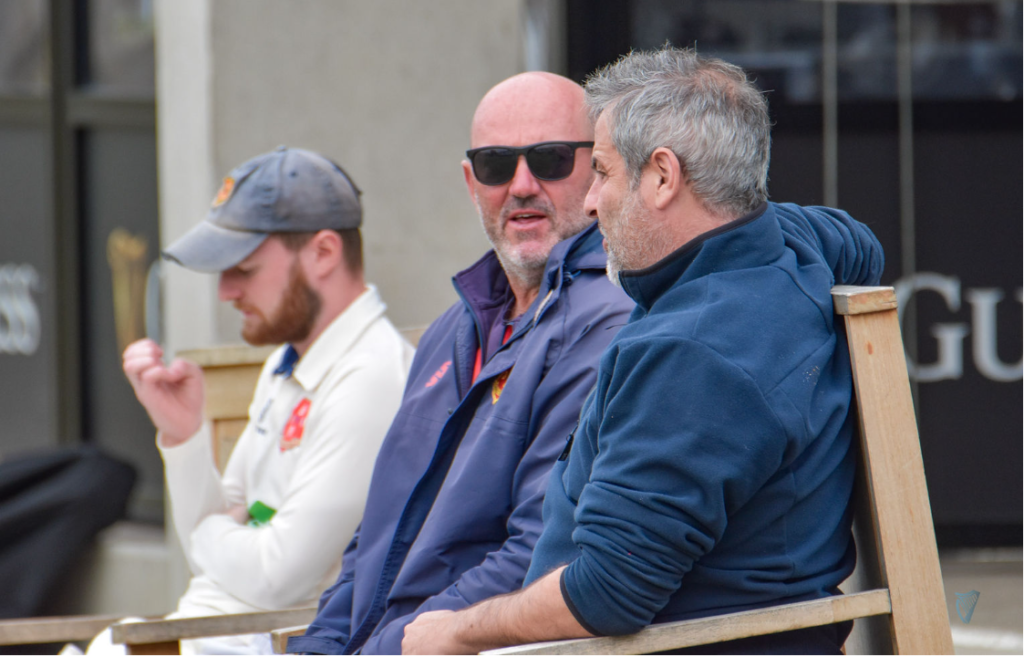 One of Jeremy Bray's most enduring characteristics is his eternal optimism, and he expressed the view that on a flat track, The Hills could achieve the target, but Jeremy could not have anticipated The Hills' batsmen collectively having their worst day of the season. The Hills lost 2 wickets for 6 runs, and then staged a brief resurgence when the partnership of Cormac McLoughlin-Gavin (17) and Murray Commins (35) added 45 runs to the score. Cormac was run out when the score was 51, and that was the prelude to a batting collapse. Mark Donegan (10), Cian Nulty (19) and Matthew Weldon (11) got into double figures, but no batsman went on to make a significant score. The Hills' final score was 107 all out in 32.2 overs.
Eddie Lewis, eminent cricketing statistician and fashion icon, summed up the league situation as follows: with two rounds to go, five teams could win the league, and seven could face relegation. He expressed the view that the Premier League should always go down to the wire with every club having something to play for, and no dead "rubbers". It is definitely not a situation for the faint-hearted, and all home fans at The Vineyard will hope for a return to the early season form when The Hills play Malahide on Saturday next.
30 August - Today looked like being a slack day news wise, until Deryck Vincent contacted me to recommend that I should desist from drumming and concentrate instead on references to serious musicians. He informed me that Dylan Cleary who was mentioned in the last log is the son of Paul Cleary of The Blades. I had heard of The Blades but knew absolutely nothing about them. It seems that the group's rivalry with U2 was one of the hot topics on the Dublin rock scene in the late 1970s, early 1980s. I'm told that Gerard Siggins is an authority on the group, and this will be a topic for further research when we get to the end of the season.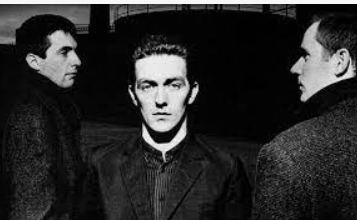 Due to various cricket commitments during the past three weeks, I hadn't seen our grandson for some time, so when he visited us today, his first comment was "Oh, Granda is at home. No cricket!"
31 August - Along with Michael Dwyer and Martin Russell, I attended the funeral service for the late Major-General Vincent F. Savino. The liturgy and very appropriate eulogies were a very fitting tribute to a wonderful man who has left a lasting legacy on coach development in Leinster. Ar dheis Dé go raibh a anam dílis.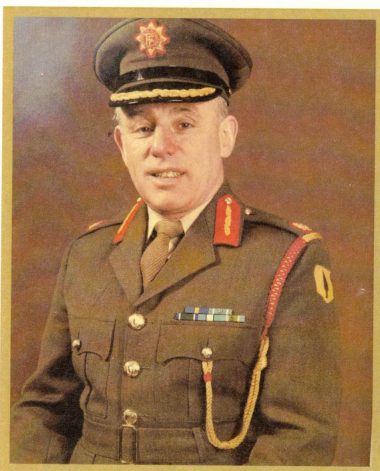 1 September - I attended a very productive Cricket Leinster Board Workshop at Talbot Hotel, Stillorgan.
3 September - What looked like being a pivotal day in the IBI Corporate Finance Premier League was ruined by incessant rain throughout the greater Dublin area. I stayed at home, but this didn't count for Brownie points because it was obvious that it wasn't going to be possible for any cricket to be played. In terms of future planning permission applications however, I bought a curry so in the words of the old Berger paint ad., "things were looking good" for tomorrow. Later, I got a report that Fintan McAllister and the Macs had provided some great music at the function at The Vineyard on Saturday evening.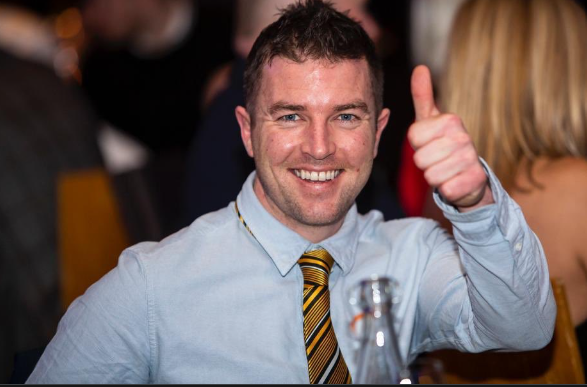 4 September - I went to The Vineyard for the Division 5 game between The Hills 2 and Pembroke 3, but the chances of play were remote because the covers had been blown off during the night, and the square was very wet. After an hour or so, it was decided that no play would be possible and depending on confirmation, it appears that The Hills' Second XI has won Division 5, and Pembroke's Third XI has been relegated.
Working on the "waste not, want not" principle, we were invited to partake of the sandwiches, scones, and lemon drizzle cakes which had been prepared for "teas". I was now on the horns of a dilemma because it is unwise not to avail of planning permissions so I wondered which game I should attend before going home. I drove to Castle Avenue but met spectators leaving the ground because the game between Clontarf 5 and YMCA 4 had just finished. I spoke with Michael Lowe, Dónal O'Sullivan, Dr Bill Tormey, and Joe Morrissey, and the only thing left to do was to complete the 10,000 steps and go home.
6 September - Had a lengthy chat with Albert Harper this morning and congratulated him on Balbriggan's wonderful achievement in winning the Premier League.
Am beginning to suffer from withdrawal symptoms as a result of not seeing any domestic cricket since 28 August. I was hoping to remedy that by attending Pembroke 2 v North County 2 at Sydney Parade this evening, but Joey Mooney informed me that the game was off due to bad weather. Having established an inextricable link between cricket and cooked breakfasts and being unable to do anything about the weather, Marie and I went out for breakfast this morning.
7 September - I had an invitation from Peter Searson to attend a game between ESB and NIE in Civil Service CC today, but the weather report for the Phoenix Park at 2.00 said that it was raining so I stayed at home. I found out later from John Morgan that the game had been played, and that there was a splendid meal afterwards in the Castleknock Hotel, so I missed out twice.
8 September - I was in Garristown this evening for a presentation to the local historical society on the history of cricket in the area. The evening was very enjoyable, and it was good to speak with people whose parents and grandparents had played cricket for one of the many teams (Garristown, Ballymadun, Baldwinstown, Tobbergregan and Cottrelstown) in that area. Tom Moore (R.I.P.) was one of the founder members of the Garristown Historical Society and he was a member of the Knockbrack Second 11 which won the Fingal League in 1930. Thanks very much to the members of the Historical Society for their hospitality and to my friends, Michael Dwyer, John and Anna Morgan, whose attendance at the event was much appreciated.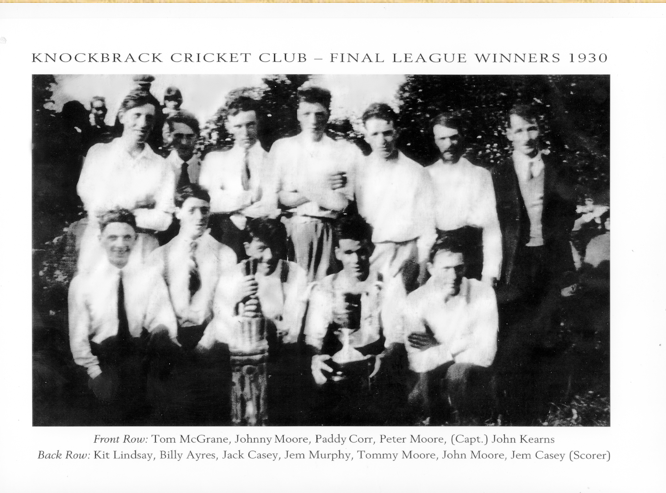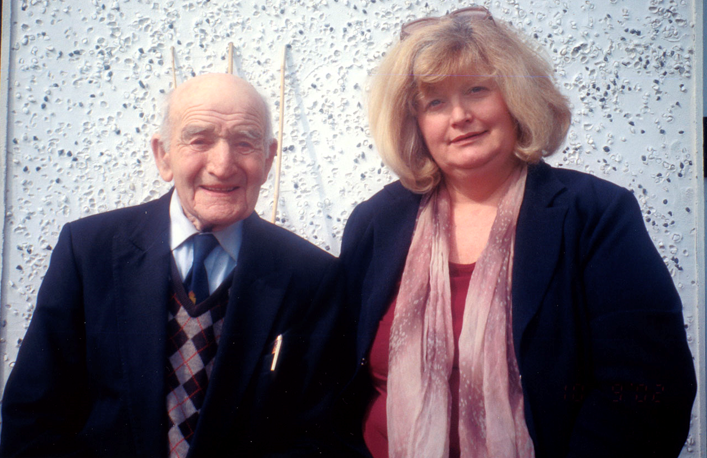 10 September - I had a chat with Fergus Carroll on NEAR FM this morning, and I acknowledge with gratitude, the work which Fergus and NEAR FM do in publicising cricket every weekend during the cricket season.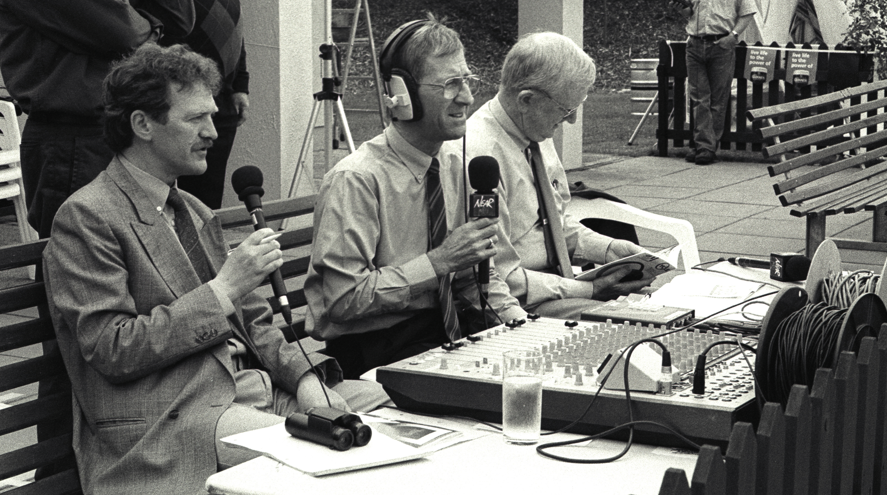 After the interview, I headed out to The Vineyard for the crucial game between Clontarf and The Hills which was full of intriguing possibilities with Clontarf needing a win to avoid relegation while a minimum of three bonus points would leave The Hills safe. We had a visit from Dean Simpson and Brian Mulholland of Lisburn Cricket Club whose Premier League season has ended, and they wanted to see some cricket.
They had an additional objective because Tarana, wife of Lisburn's overseas player (Faiz Fazal) had done a black and white sketch of The Hills' Pavilion, and they presented it to Michael Dwyer.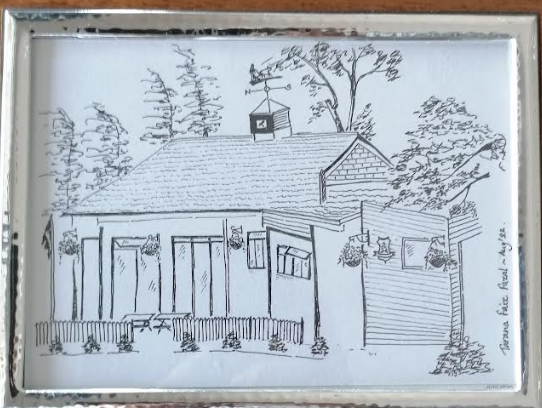 Susan Bray, President-elect of Clontarf was among the early arrivals at The Vineyard, and it is noticeable that burnt orange appears to be the preferred colour for Presidents and Presidents-elect.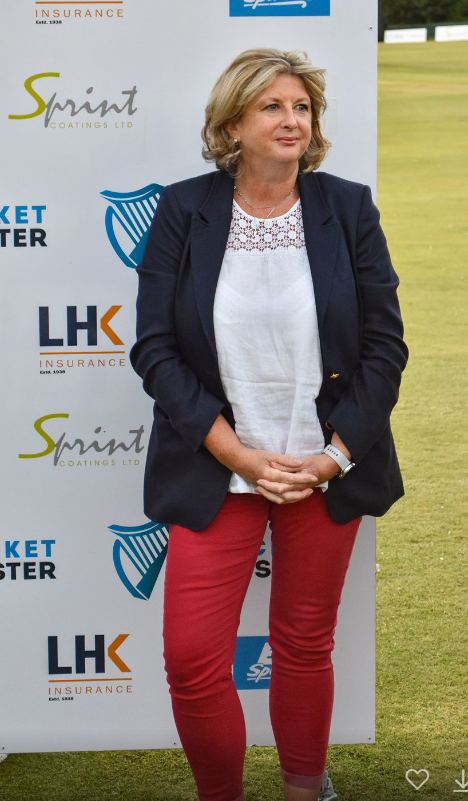 The Hills won the toss and elected to bowl first which pleased Clontarf as well because it had intended to bat first if it had won the toss. Clontarf lost a wicket when the score was 24 runs, but the brothers, Eoghan and David Delany, then had a partnership of 95 runs which put Clontarf very firmly in the driving seat. Another partnership of 52 runs between Eoghan Delany and PJ Moor brought Clontarf's score up to 171 by the 39th and had the faithful at The Vineyard thinking in terms of its team having to chase at least 260 runs. The Hills' bowlers stuck to their task and aided by some very good fielding began to make inroads into the Clontarf batting line-up, and 6 wickets were taken for 50 runs. Tomás Rooney-Murphy took 3 wickets for 39 runs; Ashley Bain took 3 for 41, and there was 1 wicket each for Dylan Blignaut and Athar Farooqi. Mark Donegan continued his good form behind the stumps and had one catch plus one stumping. Clontarf's total of 235 runs was challenging, but not insurmountable if The Hills' batsmen played to their potential.
By the 5th over of The Hills' reply, there was a distinct sense of gloom among the home supporters, as in a magnificent opening spell David Delany took the first 3 wickets for 7 runs. On occasions such as this when things are going badly for The Hills, it is important to have some topic which will divert attention from the catastrophe which was unfolding on the field. Music is usually a safe bet, but when a renowned music lover was asked if he was going to see Garth Brooks, the emphatic "no" meant that there was need for a change of tack. In a five-minute spell, there were mentions of concerts (Andrea Bocelli and James Taylor) to which some of the spectators were going, and references to great concerts in the past (Tom Paxton, Kenny Rogers, and Stevie Nix among others) which people had attended.
At that stage, Dr Bill Tormey joined us to give us some of his unique philosophical insights, and while this dialogue was being pursued, Murray Commins and Mark Donegan were managing to stabilise matters with a selection of beautiful cricket shots. A magnificent partnership of 117 runs brought The Hills back into the game, and it was ended when Mark (42) was clean bowled by Michael Granger. The partnership between Commins and Dylan Blignaut only added 19 runs, and Clontarf was back in the ascendancy. It was becoming increasingly obvious that The Hills' possibility of avoiding relegation rested on Murray Commins scoring at least 100 runs. In his best innings of the season for The Hills, he batted brilliantly to score 110 runs, and he was out to a superb catch by P J Moor off the bowling of Fionn Hand. This incident changed the complexion of the chase because it made Clontarf favourites to win the game, although all was not doom and gloom for The Hills because it had made sure of achieving the required number of bonus points. The Hills scored 220 all out, to give Clontarf a victory margin of 15 runs.
David Delany was the undoubted star of the show for Clontarf with 65 runs and 5 wickets for 40 runs while Murray Commins and Mark Donegan showed the necessary resolve when a worst-case scenario had The Hills facing relegation. This was a wonderful game of cricket, played in a very good spirit by both teams despite the fear of relegation, and they will still be playing Premier League cricket next season.
It was good to meet with Brian McNeice, Chairperson of Cricket Ireland, and we both ended the day happy with the outcome for our teams. My good friend, Stella Downes, past President of Cricket Leinster, and the person who had nominated me to succeed her, told me that Ireland's men would be playing T20 practice matches during the coming week which meant that the day of reckoning with no cricket might be deferred for another while.
11 September - I had hoped to attend the Pilkington Plate final between Clontarf and Merrion, but when I awoke, I discovered that I had no voice which was a great consolation for the members of our household, and with the fear that this might be Covid-induced, I spent the day in splendid isolation. The Hills Second XI was due to play Wexford Wanderers, but that game also fell foul of the weather.
Undaunted the Seconds held a party to celebrate winning the league, and Michael Gavin took some photographs as a memento of the occasion. The second photograph shows that even on a wet day, The Vineyard looks great.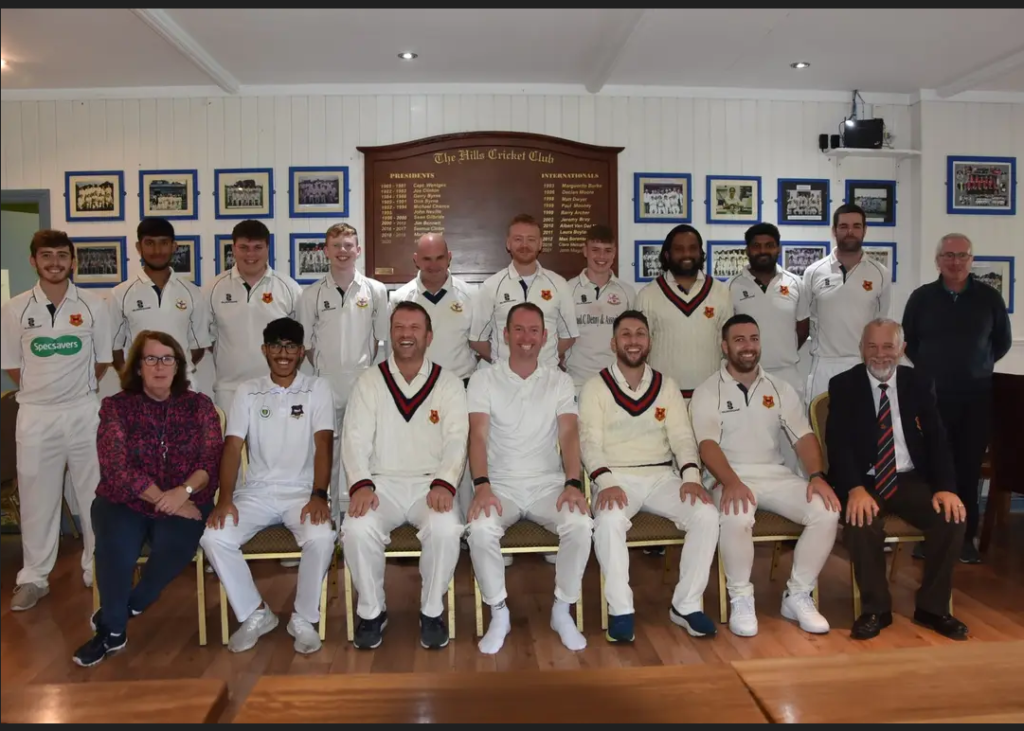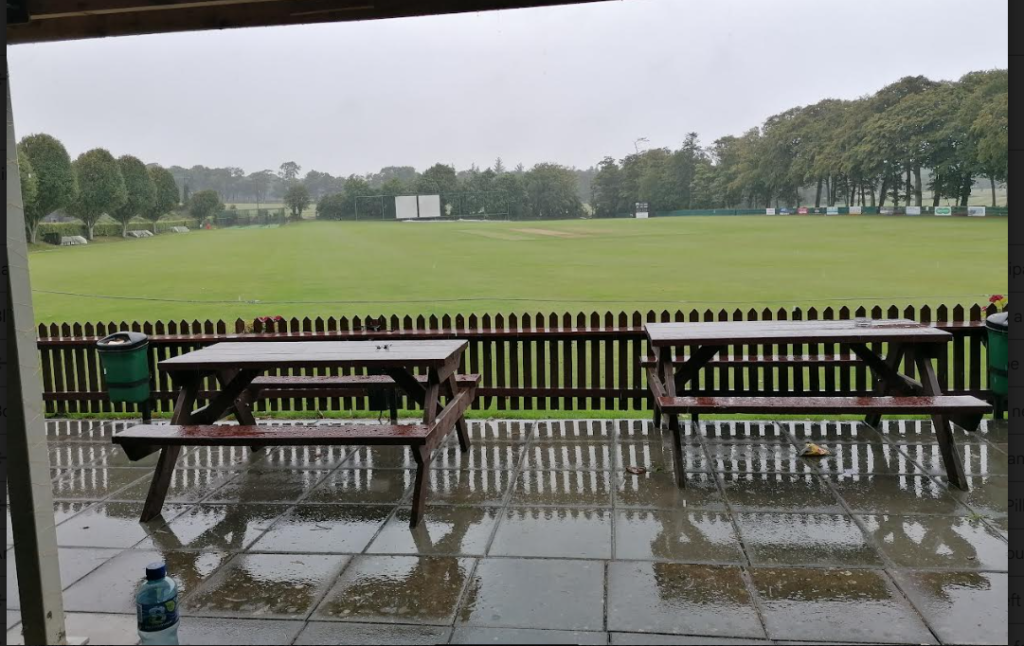 13 September - With no cricket to go to, I did a bit of work on the Archive. This photo is part of the Joe Murray Collection in the Skerries Historical Society's Archive. Thanks to Alan Caren and P J Doolan, we were able to identify many of the players, but any further information would be greatly appreciated.
The photo is of a Rush team in the early 1950s in front of the pavilion in the old Kenure ground.
Back row: Jim Coleman, __, Con Martin, Stephen Carty, __,__, __
Front row: Matt Murray, Alan Caren (the young boy), Joe Connolly, John Herity, P. Carty.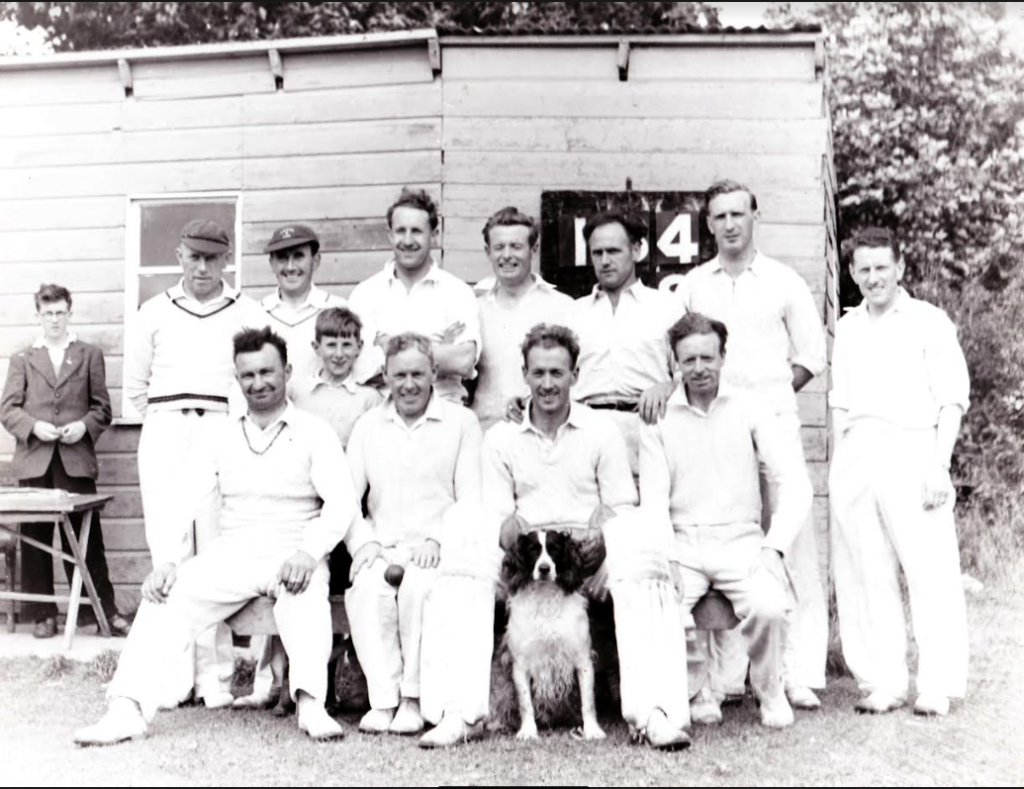 18 September 2022 - After a full week of not seeing domestic cricket, I was looking forward to the Pilkington Plate final between Clontarf and Merrion which was being played at Anglesea Road.
Before the game started, I was able to catch up on Cricket Leinster news with Philip Smith, Michael Cotter and Isobel Joyce. Clontarf won the toss and working on the "runs on the board" principle, elected to bat first. The wisdom of that decision seemed to be debatable as wickets fell regularly at one end, and when Julie McNally, the centurion from Saturday, was run out, Clontarf's score was 33 runs for the loss of 4 wickets.
Christina Coulter-Reilly (72) was her usual imperturbable self, and when she was joined at the wicket by Anna Kirk (51), the show was back on the road. A partnership of 92 runs put Clontarf very firmly in the box seat, and although the last 6 wickets fell for 54 runs, there was no doubt that a target of 180 runs was going to be very challenging for Merrion. Niamh McNulty was Merrion's best bowler with 4 wickets for 26 runs in 7.1 overs, and in a superb fielding performance, Merrion had four run outs.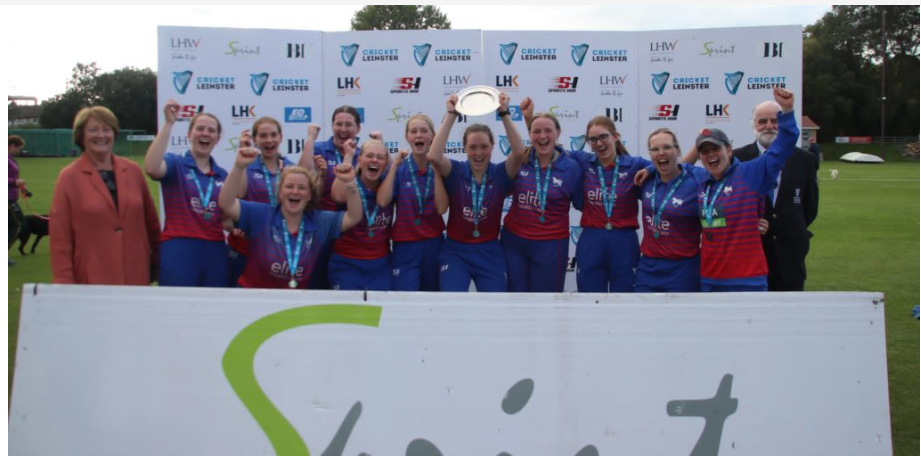 In recent times, I appear to have gained a reputation as being something of a food gourmet, but it would be more accurate to classify me as a consumer of food. During the innings break, we had a very tasty chicken curry which was provided by the catering department at Merrion CC. Later in the afternoon, my good friend, Alan Parkinson, indicated that my palate needed further education, and he introduced me to Éamonn Hoey who provided me with a platter of assorted foods. The food was very nice, but I have a confession to make, I was due to bring home a chicken curry, so Eddie Lewis + some Clontarf members finished off the food for me so that I wouldn't have the edge taken off my appetite for the evening meal. It's just as well that the cricket season is over because the 10,000 steps per day would never be sufficient to overcome continuing indulgence.
After that very lengthy digression, it's back to cricket, and Merrion had a tough start with a wicket being lost in the first over with only 2 runs on the board. A lot was going to rest on the experienced shoulders of Cecelia Joyce (31) and Celeste Raack (30), and a stand of 82 runs gave Merrion renewed hope. However, both wickets were taken by Julie McNally on 84 and 85 runs, and now the pressure was firmly on the less experienced Merrion batters. Isabel Light (18, Ally Boucher (21) , Abigail England (11) with a significant helping of Extras (44) brought Merrion back into the game. The final wicket (Julianne Morrissey) was taken with the last ball of the 39th over by Christina Coulter Reilly, the Person of the Match, and Clontarf had won the Pilkington Cup by 6 runs. This was a tremendous game, played in a wonderful spirit, and I congratulate the players, mentors, and supporters of both teams.
As can now be expected, the event was managed superbly by the professional staff of Cricket Leinster, and thanks & appreciation are also due to Deryck Vincent for his efficient work on the photographs which are a splendid record of a great day. Well done to Siobhán McBennett on her role as Chair of the Women's Committee and to Isobel Joyce for the work which she has done on the development aspect of women's cricket in Leinster.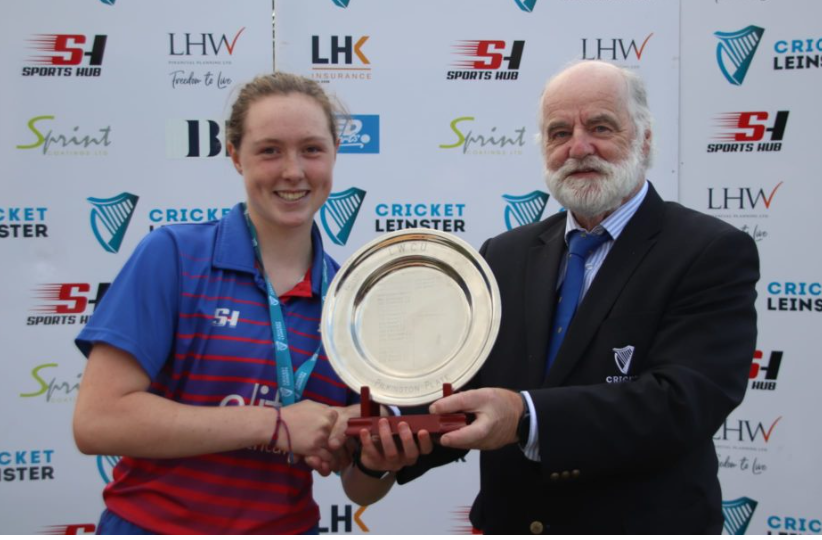 During the course of the day, I had the opportunity to chat with Alan Little and Bill Felton, who were very helpful to me when I was engaged in a literary project earlier in the year. It was good to meet up again with Peter Prendergast, essayist and novelist, whose insights on cricket and life in general , are always valuable and entertaining.
Tom Prior and Dónal O'Sullivan maintained their record as wonderful supporters of all Clontarf teams, and it has been a pleasure to chat with the parents and grandparents of the players in the various Clontarf teams during the course of the finals.
On the Merrion side, I was delighted to speak with Jimmy and Maureen Joyce, Alan Parkinson, Eddie and Ursula Lewis, Arlene and Tom Stanton, and Andrew Kay among many others, and I apologise if I have omitted any name. Conor Austin has been an ever present at Merrion and Pembroke during many of the finals, and I thank him for his endless courtesy and kindness. I must also give a shout-out to Seán Hussey with whom I was on "Comms" duty during the course of the season. Congratulations also to the players and mentors of the Clontarf teams which won All-Ireland titles this weekend.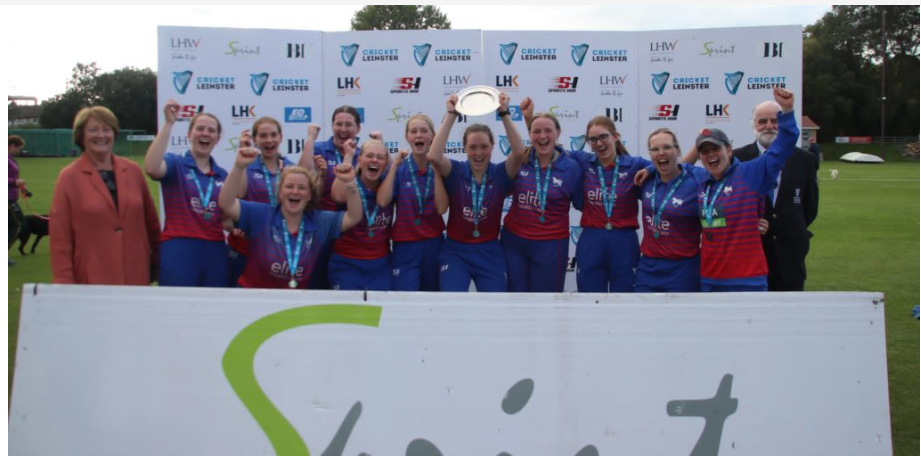 As the competitive cricket season is now ended there is an opportunity for me to reflect on my term as President of Cricket Leinster. It's been a great honour for me at a personal level and for my club, The Hills CC, to serve as President of Cricket Leinster for 2022.
The question that I've been asked most frequently, after the one about what had you for breakfast, is have you enjoyed being President? I love looking at cricket, I enjoy meeting people so there is only one answer to that. I have loved being President, and I thank the members of the clubs for the hospitality and courtesy which I have encountered everywhere.
I thank the professional staff of Cricket Leinster for the helpfulness and for the respect which they have accorded at all times to the office of President. I wish Pat Banahan, the President elect all the very best for the 2023 season.
The fortnightly logs which were the inspiration of Philip Smith, General Manager of Cricket Leinster, have given me an opportunity to give some insights into the role, but I have also had the opportunity to engage in some more discursive writing by talking about music, food, and miscellaneous other topics.
As I sign off on the last log, I reiterate my thanks to the members, supporters, sponsors of Cricket Leinster.
Winter well.
Regards,
James Bennett, CL President