Open Competitions: June
With all competitions well underway it is time for the first performance benchmark of the season. In this article we highlight the best batting and bowling performances across Divisions 3 - 17 [and related Cup Competitions].
In the batting Arjun Chandresekar [DLR County] leads the way with 397 runs from 12 matches. In terms of the averages, however, Derek Rooney [Balbriggan] stands out. Three not outs from five innings gives him a massive average of 173.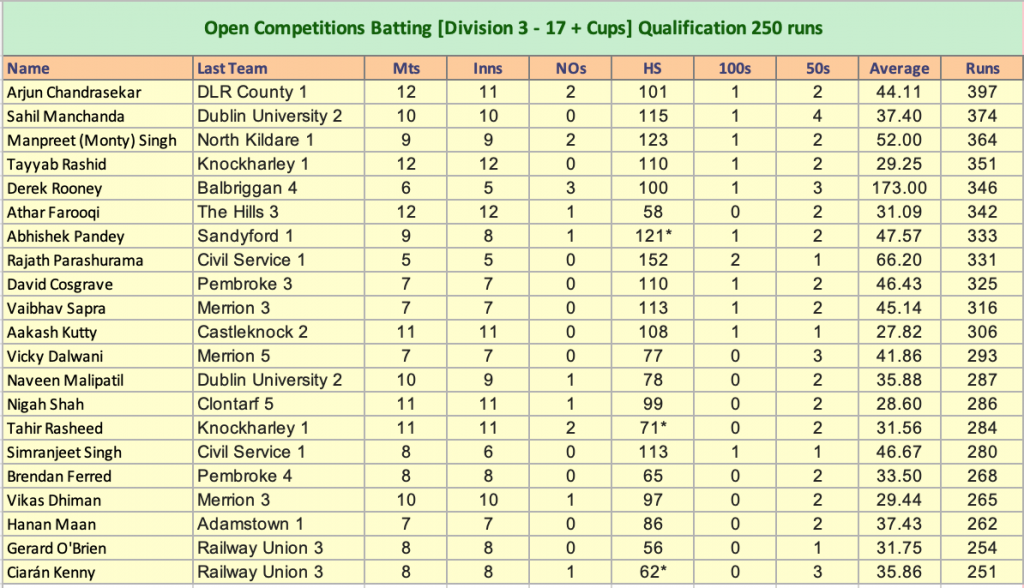 In terms of the bowling, Munir Khan [Clondalkin] heads the table with 25 wickets. Four players have averages less than 10, with Vijak Shankar Kumar [DLR County] taking his wickets [15] at an impressive 6.13 runs each. In overs cricket, of course, it is not just about wickets and runs conceded. How many runs scored per over is as important. Three players have economy rates below 3 runs per over, with Kumar again leading the way on 2.56. The two others are Devansh Singh [YMCA] on 2.86 and Shiv Sethi [Adamstown] on 2.89.