McLoughlin-Gavin Strikes 85 As Bolts Beat Ireland Under 19s
Cormac McLoughlin-Gavin anchored the Leinster Lightning Bolts innings with a composed and accomplished 85 in a 23-run victory for the provincial side.

The Hills' batsman, making a return to the Lightning set-up looked comfortable throughout his innings as he made 85 (129 balls; 5x4,1x6) before Ben White (3-44) and Tom Stanton (3-48) spun the Bolts to victory.

McLoughlin-Gavin and Nathan McGuire (46) threatened to bat the Under 19s out of the game early on as they put on 94 for the first wicket in 18 overs.

"It was tricky enough early on, with the ball swinging around a little. The lads dug in when they had to though and we played positively when we could," said McLoughlin-Gavin after the game.

Two wickets in four balls brought the national side back into it, but Michael Lewis 56 (45 balls; 8x4,2x6) proved another capable partner to McLoughlin-Gavin adding 80 together for the third wicket.

"It was great to have support from everyone; Nathan early played some lovely shots. Michael showed the power he has when he gets in and that made my job of anchoring the innings much easier. I know Albert (van der Merwe) quite well from being his teammate so I didn't feel any extra pressure coming into the team today.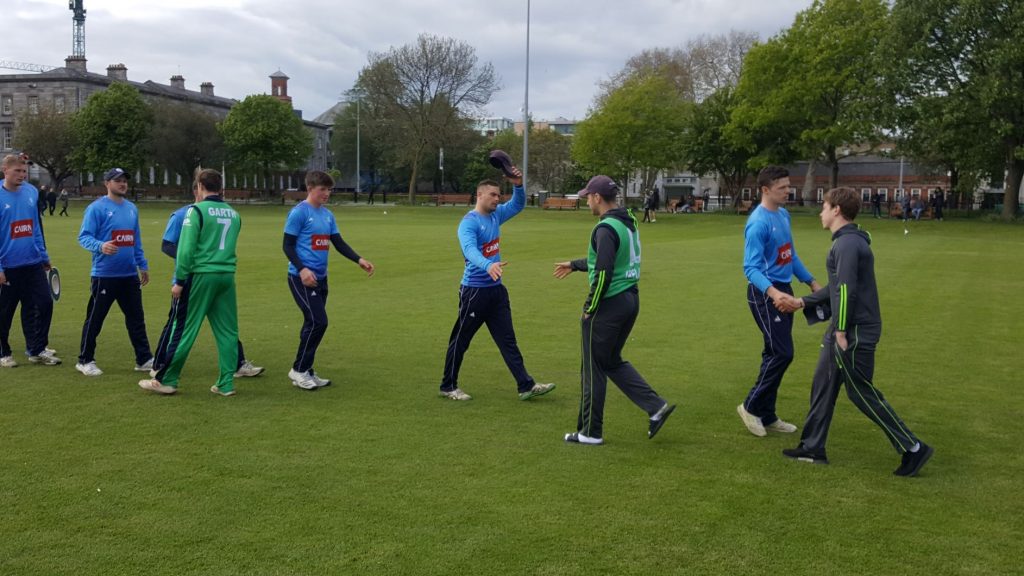 "I'm also in a really good space at the minute. I'm not trying too hard and enjoying it a bit more then when I was a bit younger and I think that's proving to be a bit of a key to my success at the moment and I'm hoping to keep it going," added McLoughlin-Gavin.

Patrick Tice (50*) made the third half-century of the Bolts innings before he was retired and Fionn Hand added a quick-fire 30 off 23 as the provincial side muscled their way to 288/5 off their 50 overs.

It was a relatively tall order for the Under 19s to chase almost 6 an over and despite an easy on the eye 49 from Ollie Metcalfe the Bolts were happy to have their opponents 99/4 20 overs into the chase.

However, the Bolts didn't have it all their own way as Tim Tector (74) and Max Burton (55) put on 119 for the fifth wicket dragging the Ireland Under 19s back into the game.

"We did a good job of restricting the boundary balls to them, but Tim batted beautifully, and he was maybe one partner short. Then Max hit some lovely shots and a couple of big sixes which had us a little worried but luckily we came through when we needed to," concluded McLoughlin-Gavin.

Tector did play some beautiful strokes along the way with 10 boundaries in his innings however when Merrion duo Tom Stanton and wicketkeeper Patrick Tice combined to have him stumped the Bolts were on top again.

The Under 19s required 45 off the final five overs but when Tector fell the final five wickets were to go for just 21 runs and the Bolts had secured a 23-run victory.

50-Over Match, Leinster Lightning Bolts v Ireland Under 19s
At College Park, Trinity College, Dublin;

Leinster Lightning Bolts 288/5 50 overs (C McLoughlin-Gavin 85, M Lewis 56, P Tice 50* ret; JJ Garth 2-39, M Thompson 1-38
Ireland Under 19s 265 a/o 48.5 overs (T Tector 74, M Burton 55, O Metcalfe 49; B White 3-44, T Stanton 3-48)

Leinster Lightning Bolts win by 23 runs