Lightning v Middlesex 'Summer Smash' Ticket Details Announced
Prices for the Summer Smash Twenty20 Challenge match on Friday 21st of June in Dublin announced with special discounts for Cricket Leinster and Middlesex Members
Cricket Leinster is today announcing the ticket pricing and corporate hospitality offering for the Summer Smash Twenty20 Challenge Match between Leinster Lightning and Middlesex to take place in Pembroke Cricket Club, Dublin on Friday the 21st of June. Cricket Leinster is also announcing a Corporate Hospitality offering with marquee and entertainment for the night.
The game which will be the first ever match between an Irish province and an English county takes place on the longest day of the year with the Summer Smash starting at 5.30pm on Friday 21st of June 2019.
There are special ticket prices for all registered Cricket Leinster Members, who can register for free via the new Cricket Leinster website - www.cricketleinster.ie - and that special price is being offered to Middlesex CCC Members as well. There is also a special 'Summer Smash' package that includes admission, a drink of your choice at the bar, a burger from the BBQ and the official Match Programme for just €20 for Members.
To avail of these tickets, they must be bought in advance by May 31st, 2019.
Special Member Ticket Prices (In Advance Sales Only)
Adult: €10
Child: €5
Family of 4: €25
'Summer Smash' Ticket: €20
Normal Prices
Adult: €15
Child: €8
Family of 4: €35
'Summer Smash' Ticket: €30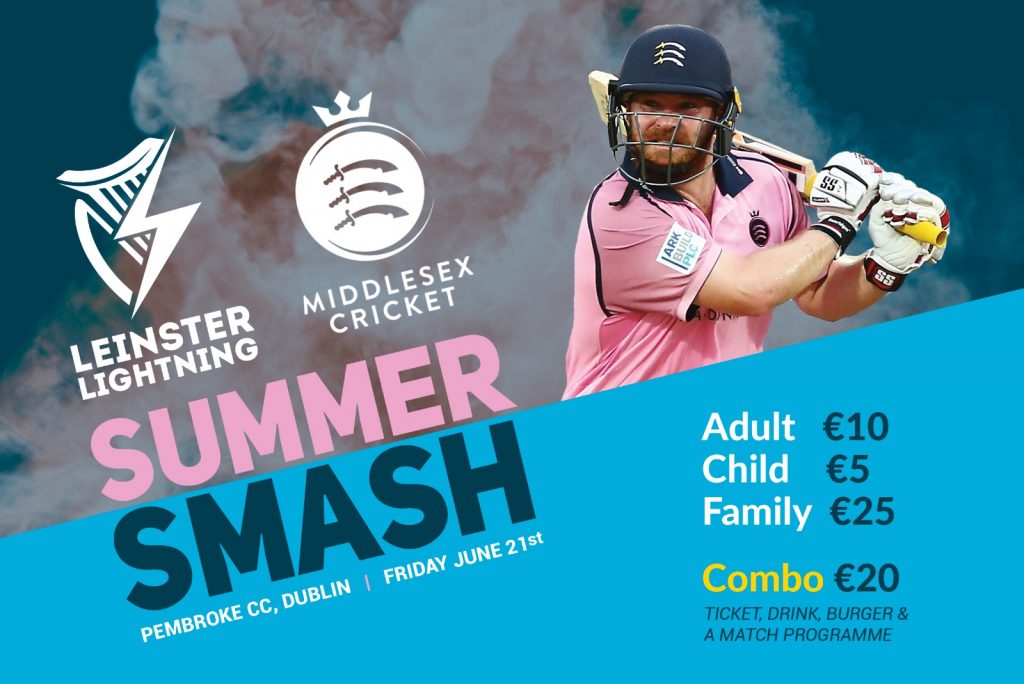 The Corporate Hospitality offering for the game has been put together to provide a full evening's entertainment at the height of the summer, the perfect platform to bring your client's to or network with new ones. There is a luxury summer 3 course meal as well as beer and wine included There is a special post-match Q & A with Angus Fraser, Ed Joyce and one of Middlesex's international stars before an evening's live music entertainment.
Corporate Hospitality
Bookings of 10 or more: €189 per person excluding VAT
Individual Bookings: €199 per person excluding VAT
All enquiries for Corporate Hospitality should be sent to summersmash@cricketleinster.ie
The Challenge Match between the two sides will be the showcase offering of the Cricket Leinster Centenary which is being celebrated with a number of events to mark the 100 years since the organisation was founded as the Leinster Cricket Union in 1919.
Cricket Leinster CEO, Philip Smith is happy that the event has been priced so attractively,
"We are delighted to offer such brilliant value tickets for everyone in the wider Cricket Leinster community, and indeed all our friends with Middlesex membership who would like to travel over for the match, with general admission at just €10 bought in advance or a family of 4 for just €25. The match is scheduled for the longest day of the year and we are hoping for a festival atmosphere that wil make it a memorable occasion for all in our Centenary year. I'd ask everyone to please purchase their tickets in advance now to get the special rate and so we can make the best possible plans for everything in Pembroke on June 21st. "
Tickets can be purchased NOW online here buytickets.at/cricketleinster or by going to the link via the Cricket Leinster website.