IBI CORPORATE FINANCE PREMIER LEAGUE & CHAMPIONSHIP SATURDAY 3.6.2023
BALBRIGGAN SHOW THEIR STRENGTH IN DEPTHWHILST PEMBROKE PUMMEL CORK
PREMIER LEAGUE – WINS FOR BALBRIGGAN, THE HILLS, MALAHIDE & LEINSTER
Merrion v Balbriggan (Anglesea Road)
Merrion 276-6 off 50 overs (John Anderson 105, Swapnil Modgill 43, Sam Harbinson 40, Michael Lewis 25*)
Balbriggan 277-7 off 47.4 overs (Chris De Freitas 128*, Andrew Darroch 33*, Greg Ford 31, Ghanim Dara 23; Max Sorensen 3-46, Sean Stanton 3-52)
Balbriggan won by 3 wkts (22 points to Balbriggan)
In the first innings of this match, Anglesea Road was treated to another John Anderson master-class – he came to the wicket with the score on 13 and he was run out off the last ball of the 50th over for a brilliant 105 at a strike rate of 83.33 including nine boundaries. Whilst John undoubtedly anchored the Merrion innings, there were also solid contributions from Swapnil Modgill and Sam Harbinson before Michael Lewis topped off the innings with a rapid 25* off just 12 balls. The wickets for Balbriggan were shared by five bowlers with the last wicket that run out of the centurion, John Anderson.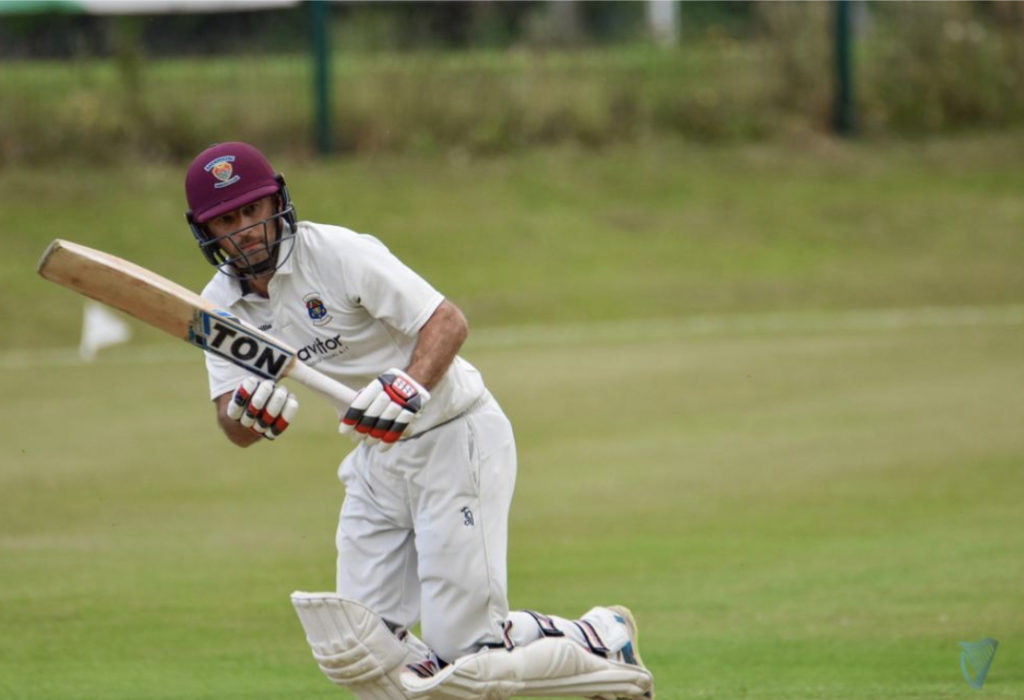 Veteran Max Sorensen then made early in-roads with the ball for Merrion removing both Cameron Rowe and Farooq Nasr without scoring. That said, Balbriggan, as defending Premier League Champions from 2022, have a strong batting line-up with Chris De Freitas & captain Greg Ford combining for a 4th wicket partnership of 104 which swung the game back towards the visitors.
De Freitas went on to complete a brilliant century of his own and with good support from Andrew Darroch as the two combined to see Balbriggan home by 3 wickets with 2.2 overs to spare. Darroch hit six 4s in his unbeaten 33 but the real hero for Balbriggan was undoubtedly Chris De Freitas who finished unbeaten on 128 (14 X 4, 3 X 6).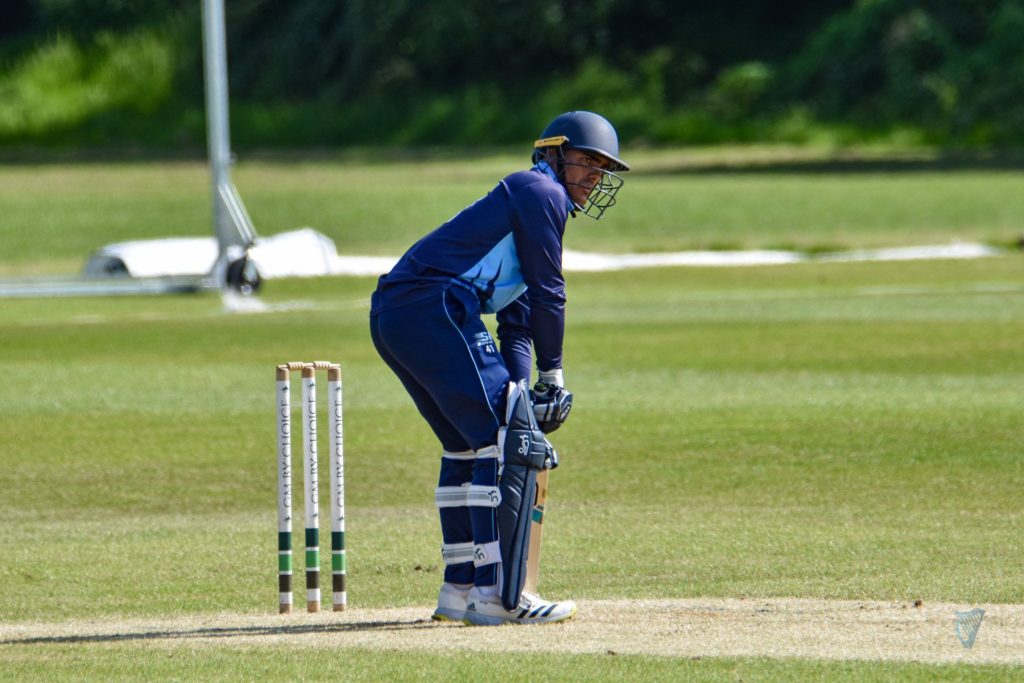 Balbriggan continue their strong start having already secured the Senior Men's T20 Trophy last weekend.
Leinster v YMCA (Observatory Lane)
Leinster 254 All Out off 49 overs (Monil Patel 99, Joey Carroll 82; Mikey O'Reilly 3-43, Olly Riley 2-27, Tom Anders 2-38)
YMCA 215 All Out off 48.2 overs (Adam Rosslee 72, Ehtesham Ahmed 40, Jack Tector 24; Bilal Azhar 3-27, Peter Francis 3-40, Devender Ranolia 2-43, Aviral Shukla 2-51)
Leinster won by 39 runs (21 points to Leinster)
Leinster's return to the Premier League saw them post 254 all out with one over unused. The innings was largely built on a brilliant 167 run partnership between Monil Patel and Joey Carroll with Monil particularly unlucky to fall just one short of three figures. Best of the YM attack was Mikey O'Reilly on his return from Dublin University as he removed both openers in his 3-43.
In reply, a number of the YM batsmen got starts but with wickets at regular intervals, it looked like the game was heading towards a facile win for the home team before Adam Rosslee and Ehtesham Ahmed combined to put on 69 for the sixth wicket before Ahmed was dismissed for 40. Bilal Azhar returned to take the key wicket of Rosslee for a well-made 72 leaving the YM tail with too much to do.
Leinster's bowlers combined well to restrict YM with Bilal Azhar (3-27), Peter Francis (3-40), Devender Ranolia (2-43)and ex YM spinner Aviral Shukla (2-51) combining to great effect.
A strong start for Leinster on their return to the top flight.
Clontarf v Malahide (Castle Avenue)
Clontarf 251-9 off 50 overs (John McNally 54, Ruan Cronje 40, Eoghan Delany 39; Cameron Shoebridge 2-34, Jimmy Newland 2-38, Andrew Sheridan 2-59)
Malahide 254-4 off 47.1 overs (Younas Ahmadzai 101, Matt Ford 53*, Hunter Kindley 34; Liam Gilhooly 2-44)
Malahide won by 6 wkts (23 points to Malahide)
A solid batting performance at Castle Avenue saw Clontarf post a creditable 251 off their allotted overs. Whilst a number of batsmen made contributions, John McNally's 54 was the highest score and no one kicked on to make a match-defining knock. The Malahide attack will have been reasonably satisfied with their performance in the field with all six bowlers used in the wickets.
In reply, Malahide timed their chase well with all the top order contributing – that said, the stand-out (match-winning) innings was provided by Younas Ahmadzai who came in at number 3 with the score on 24 – he subsequently departed for an excellent 101 (8 x 4, 2 x 6) with the score on 212. He was well supported Hunter Kindley (34) and then Matt Ford who finished unbeaten on 53 (7 x 4, 2 x 6) as Malahide cruised home to a six wicket win.
Liam Gilhooly continued his good early form for Clontarf with figures of 2-44 off his 10 overs.
A strong start for the villagers with a win away from home.
Railway Union v The Hills (Park Avenue)
Railway Union 117 all out off 23.0 overs (Riley Mudford 59*; Tomas Rooney-Murphy 6-28, Nicolaj Laegsgaard 2-21, Cian Nulty 2-28)
The Hills 121-3 off 16 overs (Nicolaj Laegsgaard 50, Murray Commins 44*)
The Hills won by 7 wkts (24 points to The Hills)
The Hills overcame Railway Union in a one-sided contest in Park Avenue with only Riley Mudford providing any meaningful resistance with the bat with an unbeaten 59 off just 42 balls before he ran out of partners. Cian Nulty removed both openers (including the key wicket of Kenny Carroll) before Tomas Rooney-Murphy helped himself to 6-28 off his 8 overs including three caught behind by Mark Donegan.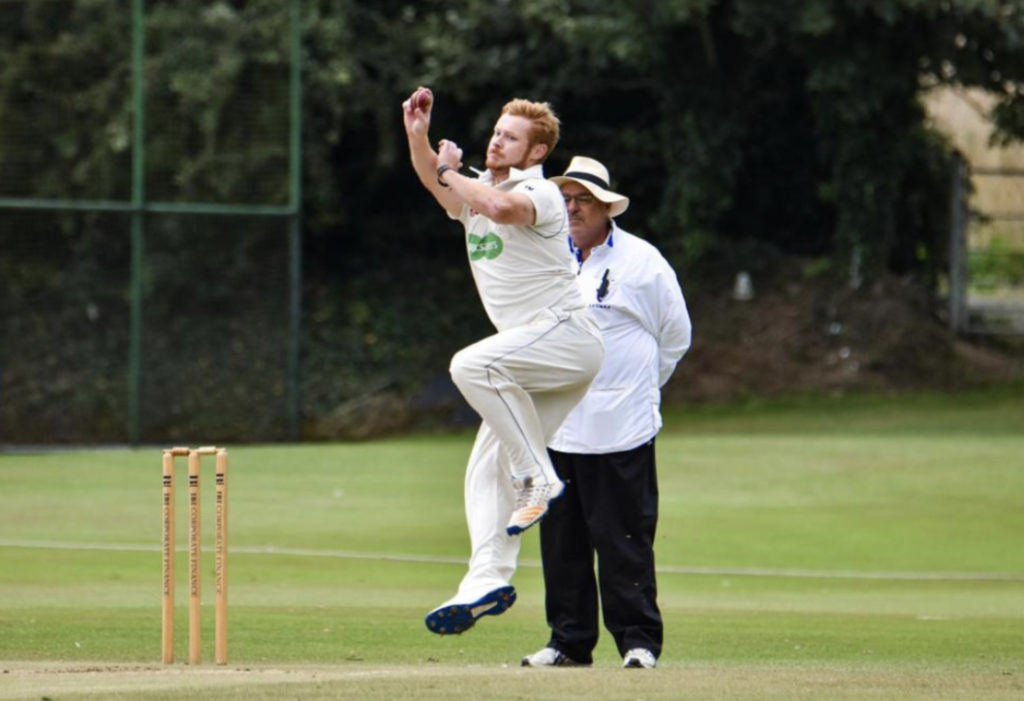 Nicolaj Laegsgaard continued the momentum from his destructive semi-final innings last weekend against Merrion in the Alan Murray Cup as he opened with 50 off just 28 balls in an opening stand of 57 before Murray Commins made short work of the remaining chase to be unbeaten on 44 (which included nine 4s). A sobering return to the Premier League for Railway.
CHAMPIONSHIP – WINS FOR PHOENIX, PEMBROKE, RUSH & TERENURE
Phoenix v Civil Service (Phoenix Park)
Civil Service 210 All Out off 46.4 overs (Dhiraj Shetty 59, Mubasher Siddique 34, Arjun Chandrasekar 24; Tyrone Kane 3-32, Amish Sidhu 3-47, Ben White 2-29, Oliver Hald 2-43)
Phoenix 214-6 off 36 overs (Jed Wiggins 80, Theo Dempsey43*, James Maginnis 25; Naveed Khan 2-46)
Phoenix won by 4 wkts (22 points to Phoenix)
In this most local of derbies in the Park, Phoenix prevailed by 4 wickets to get their Championship campaign off to a winning start. That said, Civil Service will also be encouraged by their Championship debut in posting over 200 with Dhiraj Shetty's 59 a notable highlight. The wickets for Phoenix were shared by their International & Interpro bowlers with Tyrone Kane, Amish Sidhu and Ben White taking 8 wickets between them.
In reply, the Phoenix struggled against some disciplined bowling from their neighbours and at one stage Service had reduced Phoenix to 115-5 before Jed Wiggins and Theo Dempsey combined for a match-winning 87 run partnership – Wiggins run out for a well-made 80 with Dempsey unbeaten at the end on 43.
Pembroke v Cork County (Sydney Parade)
Pembroke 352-7 off 50 overs (JJ Garth 139, Barry McCarthy 66, Nicholas Stapleton 49, Diarmaid Tucker 37; Byron McDonough 3-83, Syed Mohammed Aiman 2-32, Nabeel Anjum 2-76)
Cork County 42 All Out off 17 overs (Nick Stapleton 5-16, Barry McCarthy 3-14)
Pembroke won by 310 runs (25 points to Pembroke)
Despite the continued unavailability of players on International duty, Pembroke made a compelling statement about their intent in the Championship, posting a formidable 352 against Cork County whose bowling attack withered in the summer sun against some strong Pembroke batting. The highlight was undoubtedly a magnificent run a ball 139 for JJ Garth. JJ enjoyed solid support from fellow opener Diarmaid Tucker and overseas player (Nicholas Stapleton) before Barry McCarthy launched a 25-ball assault on the County bowlers which included 7 maximums in a blistering 66.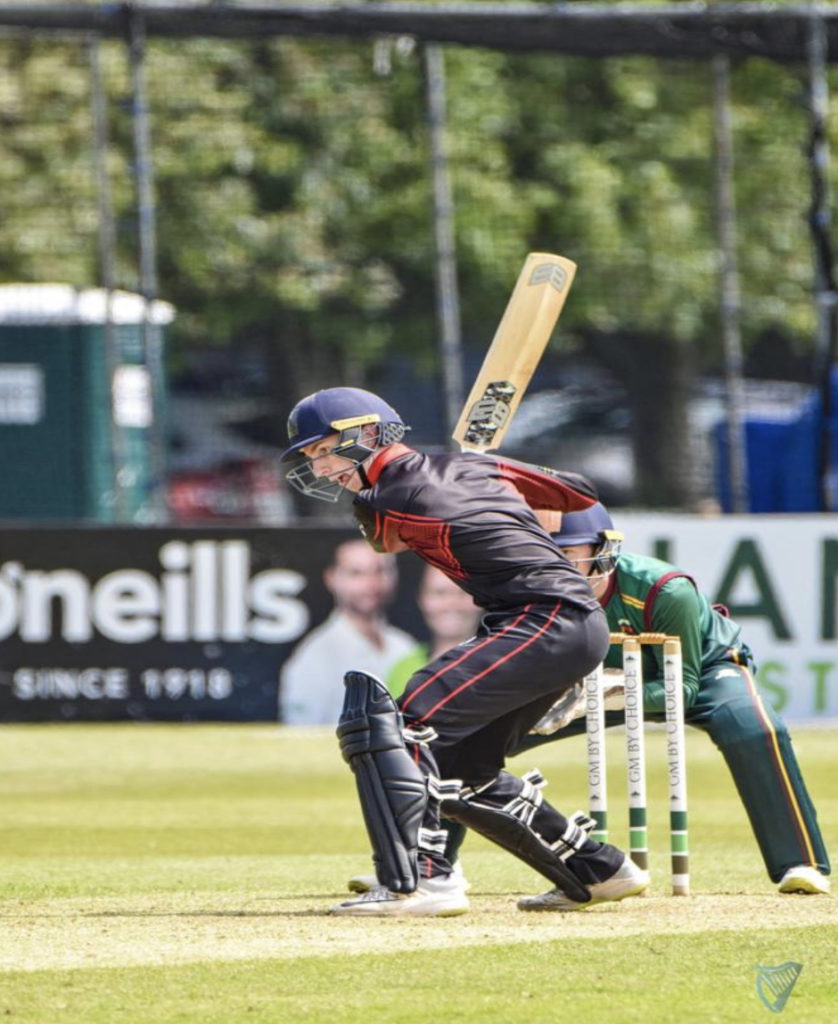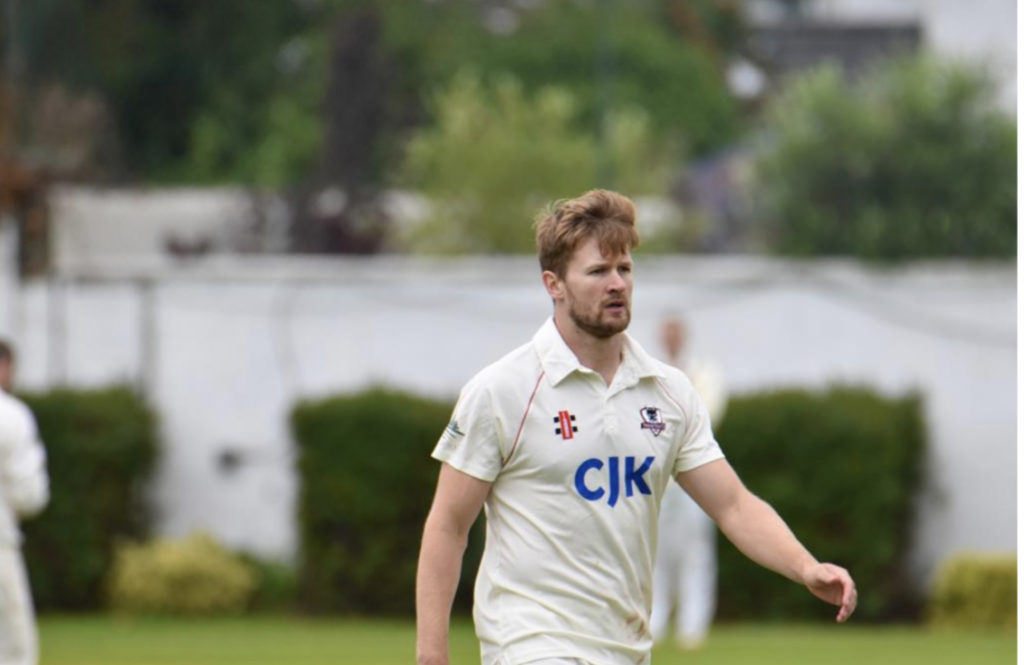 In reply, Cork County's innings simply never got going as Nick Stapleton (5-16) and Barry McCarthy (3-14) combined to blow away Cork's batting line-up with the scorecard resembling the proverbial international dial-code –170003101052! Extras were top score at 13!
North Kildare v Terenure (The Maws)
Terenure 277-8 off 50 overs (Raghav Grover 91, Donal Vaughan 80*, Seamus Lynch 24; Samran Patel 2-10, Mohammad Zaman 2-27, Josh Uddin 2-48, Akhilesh Sharma2-53)
North Kildare 194 All Out off 40 overs (Sayed Mehdi Shah51, Badeeu Zaman 31; Husnain Maroof 26; Sadiq Safi 4-37, Raghav Grover 3-36)
Terenure won by 83 runs (24 points to Terenure)
It was a humbling experience for the visitors who will face Pembroke again in the next round of the Irish Senior Cup!
Terenure got their Championship campaign off to a strong start at the Maws where they posted a decent 277 off their allotted overs, the highlights being an excellent 91 from Raghav Grover off 83 balls and a more sedate but equally valuable unbeaten 80 from the veteran Donal Vaughan who also successfully marshalled the late order.
In reply, North Kildare made a strong start with useful contributions from their top order including 51 from Sayed Shah however Terenure then fought back well in the field as wickets began to fall at regular intervals. Sadiq Safi was the pick of the bowlers with 4-37, well supported by Raghav Grover (3-36) in a fine all-round performance.
North County v Rush (Inch)
Rush 197 All Out off 39.1 overs (Jack McGee 43, Nathan McGuire 40, Jarred Barnes 34; Sean Sludds 3-28, Eddie Richardson 3-42, Abdul Sattar 2-36)
North County 78 All Out off 23.5 overs (John Devane 24; Asher Abbasi 5-23, Jarred Barnes 3-26)
Rush won by 119 runs (25 points to Rush)
In the first of a double-header between North County and Rush this weekend, Rush will be the happier side overnighthaving achieved full points at Inch. Useful knocks from Jack McGee, Nathan McGuire and Jarred Barnes contributed to a Rush total of 197 all out which seemed light thanks to a disciplined performance from North County in the field. The returning Sean Sludds led the way with 3-28 with Eddie Richardson and Abdul Sattar sharing a further 5 wickets.
Despite home advantage, North County's batting never got going as Rush's bowling attack combined to dismiss the hosts for just 78 - the star performers with the ball for Rush being Asher Abbasi who took 5-23 off 5.5 overs and Jarred Barnes with 3-26 off 8 overs in a fine all-round performance.
Both sides do battle again tomorrow in the National Cup.